Hundreds of Leading CEOs and Corporations Sign Statement Opposing Voting Restrictions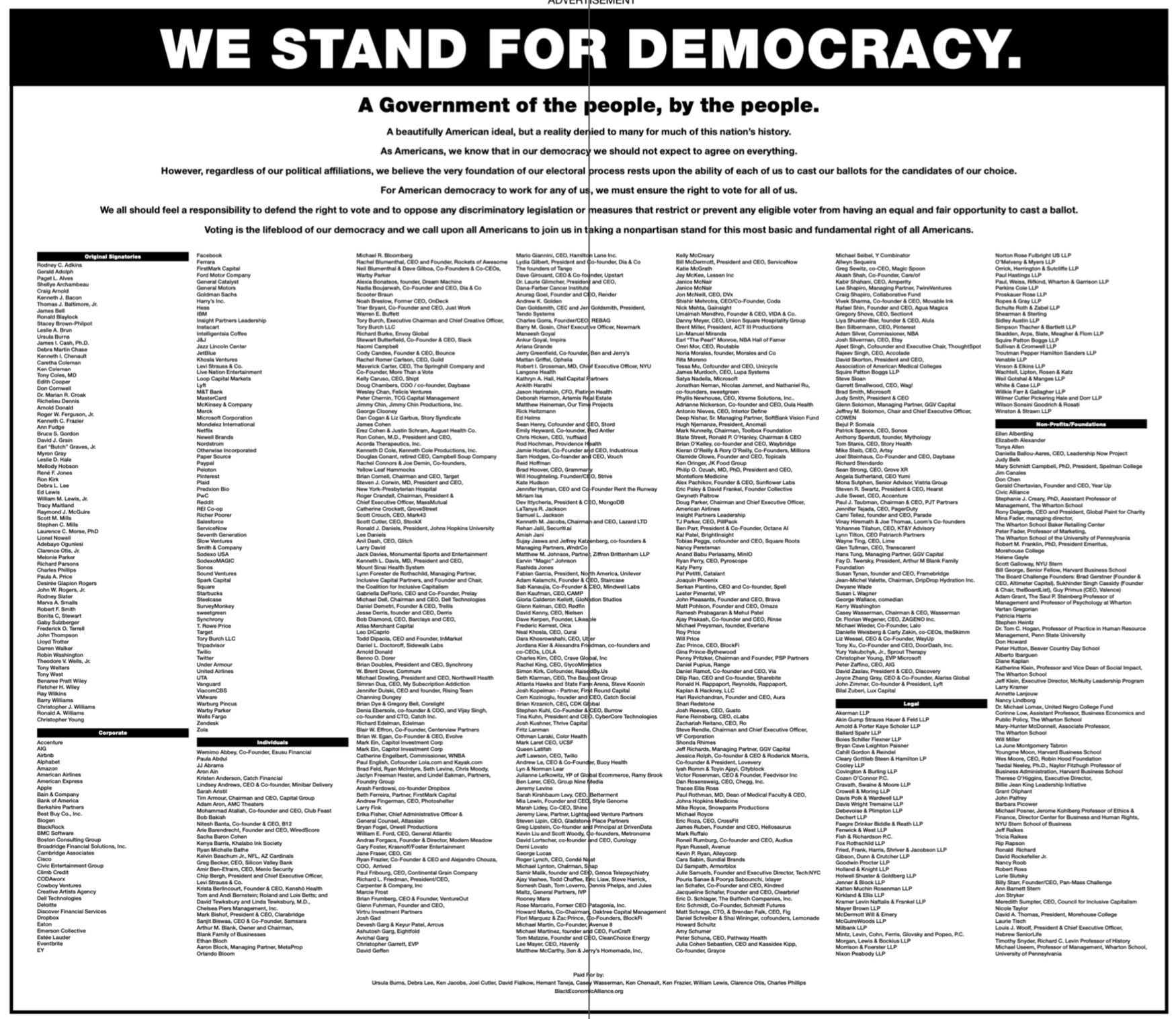 Image source: Twitter @dgelles (David Gelles)
Hundreds of corporations, executives and celebrities have come out against voting restrictions that a number of states across the US are considering implementing.
Published Wednesday as a two-page advertisement in The New York Times and The Washington post, the statement's signatories include corporations like Amazon.com Inc (Nasdaq: AMZN), Starbucks Corp (Nasdaq: SBUX) and Apple Inc (Nasdaq: AAPL) and individuals including actor Leonardo DiCaprio and actor-producer-playwright Lin-Manuel Miranda.
"We should all feel a responsibility to defend the right to vote and oppose any discriminatory legislation or measures that restrict or prevent any eligible voter from having an equal and fair opportunity to cast a ballot," the letter said.
CNBC noted the statement is the largest showing of corporate backlash to GOP-backed bills in state legislatures across the country that civil rights groups say will make it harder for minorities to vote.
The effort was organized by Ken Chenault, former American Express chief executive officer, and Ken Frazier, chief executive officer of Merck & Co, according to The New York Times.
After Georgia's Republican governor Brian Kemp signed into law a sweeping bill that opponents say will suppress voter rights, Chenault and Frazier spearheaded a coalition of prominent Black business executives to call on corporate America to speak out against the restrictions.
In an interview Wednesday with Reuters, Chenault said, "It was important to assert some of the core principles of our democracy and the most fundamental is the right to vote."
According to non-partisan policy institute Brennan Center for Justice, 361 bills with restrictive provisions have been introduced in 47 states as of March 24.
The measures under consideration in states like Texas and Arizona mirror what was already passed in Georgia, which added new rules for mail-in ballots and voter registration and gave state officials more oversight over local election boards.
Kemp and other supporters say the voting overhaul will increase confidence in the voting system. They have also criticized chief executive officers and corporations for speaking out on the issue.
Earlier this month, former president Donald Trump called for a boycott of companies that opposed the new election law, including Delta Air Lines Inc, Coca-Cola Co and Major League Baseball, which pulled this summer's All-Star Game out of the Atlanta area in response to the restrictions.
Atlanta-based Coca-Cola and Delta were not among the signatories of Wednesday's letter, but have put out individual statements calling the voting curbs in Georgia "unacceptable," Reuters noted.
Home Depot, also headquartered in the Peach State, was also among the notable absentees, according to CNBC.
_____
Source: Equities News
8.7.3