Pinx Group, a Jackson Township Paving Contractors Company, Improves Property Values Through Superior Workmanship
September 07, 2021 at 09:09
Jackson, NJ - Driveways and pavements, like all other structures, tend to lose their structural integrity with time due to prolonged exposure to different weather conditions. Aware that this deterioration is accelerated by lack of proper and regular maintenance, Pinx Group a Jackson paving contractors crew, has positioned itself as the go-to group for all asphalt work in and around Jackson, NJ. The crew members boast several years of experience in asphalt work between them, elevating them above most of their competitors in what they do. Irrespective of the scale of the work required done, the residents of Jackson can always count on them to deliver.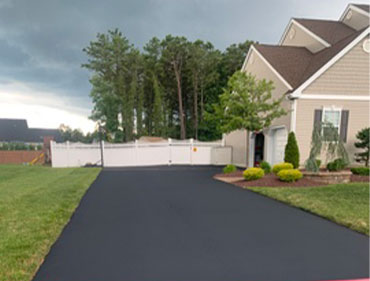 Mindful that time is of the essence, the paving contractors boast some of the fastest completion times of projects without ever compromising the quality of work done. Describing the company's core values, a team member said, "Pinx Group is in the business of saving our Partners time and money, while at the same time enhancing the safety, performance, curb appeal, value and overall life of their paved surfaces and properties. We help our Partners minimize and mitigate liability issues related to accidents involving vehicle and pedestrian traffic as well as the headaches associated with a serious safety accident or an extended closure."
Complete Driveway Sealcoating Services
One of the areas that Pinx Group excels in is driveway sealcoating. The group has helped many locals raise their property values by significantly improving the aesthetics of their driveways through the application of a new sealcoat. Pinx Group experts recommend that clients get their asphalt driveways seal-coated periodically rather than wait for cracks to appear, which may be much costlier to repair. Many of their past clients admit that their driveways looked new and lasted much longer once they had them seal-coated. The experts know all the telltale signs (such as fading of the black color or chipping) that an asphalt pavement needs a new coat. All the clients need to do is schedule an assessment to get a free quotation.
For cracked or damaged driveways, the Pinx Group experts can do repairs irrespective of the extent of the damage. After the initial inspection, they come loaded with all the equipment and materials required to get the job done. They use cutting-edge infrared asphalt repair technology to ensure that all the cracks and gaps get a smooth finish after every repair job. The Pinx Group pavers handle all residential, commercial, and industrial paving requirements in Jackson.
Contact Pinx Group
For more information on the services offered by the company, visit their website. For other queries or to schedule an appointment, contact a company representative at 7327561361. Pinx Group is located at 231 Cedar Swamp Road, Jackson, NJ, 08527.