ERA Coalition Marks 50th Anniversary of the Equal Rights Amendment Passage In Congress With Event Honoring Equality Champions
"The Time Is Now" featured Speaker Nancy Pelosi, Gloria Steinem, Alyssa Milano, Kathy Najimy
Honorees included Chairwoman Carolyn Maloney, Congresswoman Jackie Speier, Carol Jenkins, and posthumously Senator Birch Bayh
Washington, D.C. -- On the 50th anniversary of Congress passing the Equal Rights Amendment, the ERA Coalition held a virtual event to honor those who have dedicated their lives to fighting for equality for all. "The Time is Now" honored Chairwoman Carolyn Maloney (NY-12), Congresswoman Jackie Speier (CA-14), ERA Coalition / Fund for Women's Equality President and CEO Carol Jenkins, and posthumously former Indiana Senator Birch Bayh.
"On the 50th anniversary of the Equal Rights Amendment passing Congress, I'm proud to stand beside these incredible champions of equality who have fought their entire lives for equal rights," said ERA Coalition / Fund for Women's Equality President and CEO Carol Jenkins. "The time is now to publish the ERA to the Constitution. As long as legislators across the country continue to pass laws that perpetuate the second class status of women in America, we need the Equal Rights Amendment to achieve true sex equality. Even though we are ready to stop marching, we can't and won't stop until the Equal Rights Amendment is no longer held up."
Watch the event here.
The virtual event, emceed by actress and activist Kathy Najimy, featured remarks from Speaker Nancy Pelosi, Political Activist & Journalist Gloria Steinem, Financial Professional & Board Chair of Women Moving Millions Mona Sinha, Founding Executive Director of the Sorensen Center for International Peace and Justice at CUNY Law School Camille Massey, Executive Editor and Vice President at Random House & Feminist Activist Jamia Wilson, Communication Strategist & Founder of Zone Communications Fran Zone, and ERA Coalition Board Chair & Founder of Higher Heights Kimberly Peeler-Allen. The entire event replayed at 7PM PT with Producer, Advocate, Actor and ERA Coalition Board Member Alyssa Milano as chat host.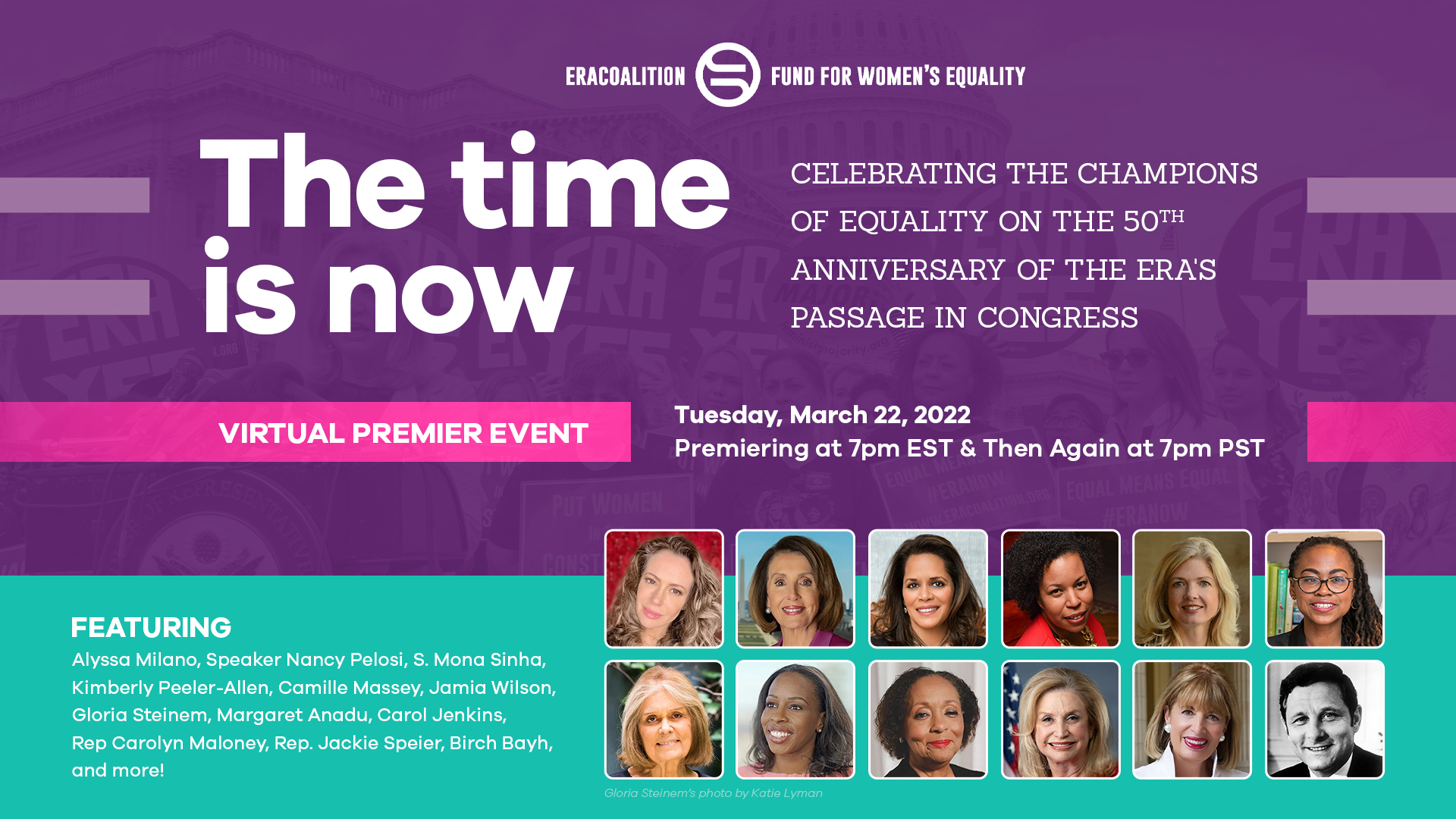 The Equal Rights Amendment 50th Anniversary is supported by Corporate Board Chair Margaret Anadu, Advisor at One Million Black Women Fund Partner and Global Head of Sustainability and Impact at Goldman Sachs; by co-chairs Janet Montag, S. Mona Sinha, and Fran Zone. Efforts are also supported by the Host Committee, including Leslie Bhutani, Kamal Fizazi, Suzanne Lerner, Kathy Matsui, Jenny Warburg, and the Zegar Family Fund.
The ERA was passed by Congress on March 22, 1972, and Virginia became the 38th state to ratify the amendment in 2020, thus fulfilling all constitutional requirements set forth in Article V. Even though the ERA has met all the constitutional requirements for an amendment, making it both valid and enforceable today, it has yet to be published as part of the Constitution. Congress must now remove the arbitrary ratification time limit and eliminate any doubt that the ERA is now the 28th Amendment to the Constitution.
###
The ERA Coalition was founded in 2014 to bring concerted, organized action to the effort to ratify the Equal Rights Amendment. The ERA Coalition has a sister organization, the Fund for Women's Equality, which promotes public education and outreach on the need for constitutional equality. Comprised of nearly 250 organizations across the country, the Coalition provides education and advocacy on Constitutional Equality.
While the effort to amend the constitution to include sex equality began nearly a century ago, our renewed efforts are centered on Black, Indigenous and Women of Color, gender-nonconforming and transgender women and girls, and nonbinary people- those who are most impacted by systemic inequities.
Fund for Women's Equality
Media Contact

Company Name
ERA Coalition
Contact Name
Chrisi West
Phone
703-517-6780
Address
1875 K St NW #7
City
Washington
State
District of Columbia
Postal Code
20006
Country
United States
Website
https://www.eracoalition.org/

COMTEX_405551187/2735/2022-04-11T11:12:09