Barilari & Williams, LLP, are Top-Rated Estate Planning Attorneys in Pasadena
February 09, 2022 at 10:11
Pasadena, CA - To protect a family and ensure a legacy, an individual needs the skills, expertise, and experience of an estate planning attorney passionate about providing legal counsel and support. At Barilari & Williams, LLP, education, compassion, trust, open communication, and respect are the principal values Antony S. Barilari, Leroy A. Williams, and a team of staff operates on. They understand that making end-of-life decisions can be overwhelming, and this is why they're committed to helping their clients prioritize their goals to plan for a better future.
According to Barilari & Williams, LLP, many people think that creating an estate plan isn't necessary until they're older or sick. The attorneys believe that outlining a comprehensive estate plan is the only way to protect what matters and ensure that future generations don't bear the responsibility of making important decisions. For this reason, the estate planning attorneys Pasadena serve individuals who are starting a new job, thinking about starting a family, or nearing retirement, to protect their family's futures and ensure that their exact wishes are carried out even after they're gone.
Barilari & Williams, LLP focuses on probate and trust administration to deal with the disposition of property after death. The attorneys prove the validity of the decedent's will, identify/create an inventory of the decedent's assets, appraise property, and pay the decedent's debts/taxes. They also distribute the remaining assets according to the decedent's will or the laws of intestate succession.
As estate planning attorneys in Pasadena, Barilari & Williams, LLP help clients create an estate plan holistically under current law, preserve their existing estates using prudent protections, and optimize the use of their estates during their lives as they see fit. They also focus on planning for better decision-making when a client becomes incapacitated/disabled and transferring property to loved ones/third parties. Additionally, they help clients make clear wishes for their families regarding care for minor children, property distribution, funeral plans, and many more.
Barilari & Williams, LLP is also in business to serve beneficiaries, devisees, and heirs who want to protect their rights by offering probate and trust litigation. They represent clients against individuals who are taking advantage of a family financially, contesting a loved one's will, or claiming assets from an estate that isn't theirs.
With the understanding that losing a loved one is emotionally tasking, Barilari & Williams, LLP offers free consultations to determine a client's financial needs, how much property/investments they have, plans for the future, and other personalized issues to create a will, trust, or estate plan. This approach has earned the law firm many 5-star reviews, positive testimonials, and lasting relationships with the residents of Pasadena.
To start working together with Barilari & Williams, LLP, call (626) 590-7286 to schedule a free consultation. They are located at 155 N Lake Ave, Ste 800, Pasadena, California, 91101, US. For any inquiries about the estate planning services they offer, visit the law firm's website.
Media Contact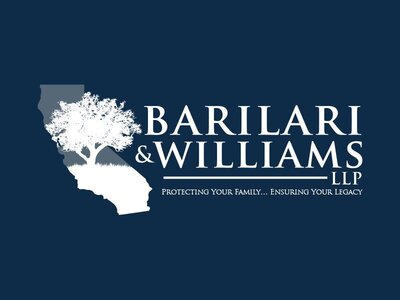 Company Name
Barilari & Williams, LLP
Contact Name
Anthony Barilari
Phone
(626) 590-7286
Address
155 N Lake Ave, Ste 800
City
Pasadena
State
California
Postal Code
91101
Country
United States
Website
https://barilari-williams.com/

COMTEX_402063012/2735/2022-02-09T10:11:12