True Potential Chiropractic Provides Corrective Care in Beaverton
December 16, 2021 at 16:57
True Potential Chiropractic, a clinic in Beaverton, OR, is happy to announce that they are offering corrective care Beaverton residents and those in the neighboring areas can rely on. This involves corrective spinal adjustments based off of x-ray biomarkers. This means that the chiropractic physicians at the clinic use digital x-ray studies to determine the root cause of the problem, coupled with re-examinations and post x-rays to monitor the patient's progress and to provide proof of the results. After a detailed doctor's report, they will then perform spinal correction through the use of gentle chiropractic methods. These are advanced correction techniques that are more comfortable, safer, and more effective than ever before.
Dr. Bryen Bell, founder and owner of True Potential Chiropractic, says, "I believe that healthcare is mislabeled. The way we approach healthcare in this country is really 'sickcare.' While everyone should have a 'sickcare' doctor, they should also have a 'healthcare' doctor. The healthcare doctor transitions a patient from needing a sick doctor to moving forward with a focus on their health through the lens of an active lifestyle, one as free as possible from pain and disease. Healthy people have many wishes, sick people have only one. Proper healthcare gives you the tools to take your health back into your control and live your life to your true potential."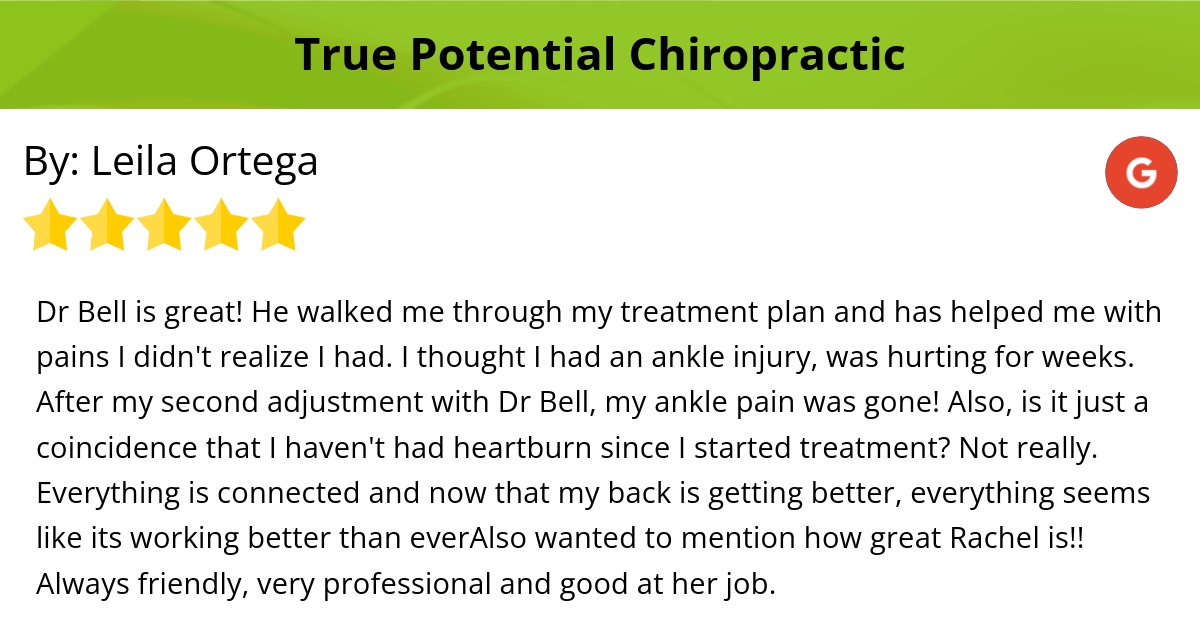 Meanwhile, corrective care success stories can be found on the True Potential Chiropractic website where before and after x-ray images are provided to show what has changed. In one instance, a patient was referred to them for chronic low back pain, which had persisted for the past 16 years. Because of the pain, he was unable to exercise regularly, play basketball, or even sit on the ground to play with his children. Corrective care had allowed his body to heal and get back to it active state. Now, he is able to play with his kids without any limitations and he is also joining an adult basketball league.
And when it comes to assisted stretching Beaverton residents can also depend on True Potential Chiropractic. Assisted one-on-one stretching is focused on certain muscles and connective tissues. They offer the TPC Stretch, which combines post-isometric relaxation (PIR) and traction and oscillation to realign, lengthen, and re-organize the connective tissues known as fascia. The clinic has stretchologists who have expertise in improving the patient's flexibility as early as the first session, although actual results may vary.
Assisted stretching is suitable for all kinds of athletes, such as crossfitters, weightlifters, dancers, martial artists, runners, gymnasts, etc. It can also help weekend warriors, inflexible dads, moms who are active, and even those who are non-athletes. It has been observed that assisted stretching may be able to reduce pain, enhance circulation and strength, alleviate tight muscles and improve recovery time and posture.
Founded in 2013, True Potential Chiropractic has the mission of providing lifestyle care for everyone. They are among the top providers of family corrective care and wellness in the Pacific Northwest. Founder Dr. Bryen Bell has specialized and is committed to providing non-drug solutions as the first choice in health care. He and his family moved to the Pacific Northwest during the summer of 2013 and he established the full computerized and state-of-the-art corrective care family wellness center in Beaverton, OR. This is a sports rehab and family practice that is focused on health and wellness through prevention and maintenance, instead of waiting for the occurrence of a health crisis, such as pain, illness, or disability. His philosophy and success is based on the six laws of the human body, which are: diet, rest, exercise, alignment, mindset, and stress management (d.r.e.a.m.s.). Dr. Bell has a chiropractic degree (D.C.) and a B.S. in human biology from Cleveland Chiropractic College in Los Angeles.
When in need of a chiropractor near me Beaverton residents and those in neighboring areas can visit the True Potential Chiropractic website, or contact them through the telephone or via email. They are open from 9:00 am to 12:00 pm and then from 3:00 pm to 6:00 pm on Mondays, Tuesdays, and Thursdays; from 3:00 pm to 6:00 pm on Wednesdays; and from 9:00 am to 11:00 am on Saturdays.
###
For more information about True Potential Chiropractic, contact the company here:

True Potential Chiropractic
Dr. Bryen Bell
503-574-4872
drbell@tpcportland.com
8283 SW Cirrus Drive
Bldg 15
Beaverton OR, 97008