TDK Party Rentals Offers Event Services in New Orleans and Northshore LA
October 24, 2022 at 16:20
TDK Party Rentals, an event rental company based in Covington, LA, offers party rental services for the metropolitan New Orleans and Northshore, Louisiana, areas. The company offers various inflatable rentals, such as waterslides, interactive inflatables, combos, bounce houses, interactive games, and more. More information about this can be gleaned by visiting the company website.
Charles Ivry from TDK Party Rentals said, "Inflatable party rentals are the big hit at children's parties. People sometimes don't know what to call them: bounce houses, moonwalks, jumpers, bouncers, space jumps, waterslides, bouncy houses, or inflatable things. No matter what you call them, we carry them all. From a waterslide in Slidell to a bounce house in Laplace, we've got you covered. We have all your favorite themes from Mickey to Elmo. Our selection is the largest inflatable collection on the Northshore. We also have inflatable slides, water slides, combos, interactive games, and obstacle courses, as well as sno-cones and generators for party rentals."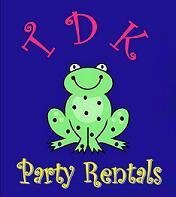 TDK Party Rentals offers a variety of inflatable waterslides. These include the 18' Purple Hurricane, 18' Tiki Plunge, 18' Tropical Waterslide, 22' Blue Hurricane, 22' Straight Drop Kahuna, 4-in-1 Castle Mod combo (13 x 22), 4-in-1 Pink Castle Mod combo, 4-in-1 Princess Combo XL Slide, 5-in-1 Castle Combo XL, 5-in-1 Dolphin Combo (Double Lane), 5-in-1 Double Lane Shark Combo, Adventure Gallery Water Slide, Big Kahuna (18' H x 40' L), Wipeout (19 H x 40L), and more.
They also offer interactive inflatables, such as the 78' Extreme Obstacle Course, ADR Express, and Backyard Obstacle Challenge. They also have available various combination inflatables or combos, including the 4-in-1 Castle Mod combo (13 x 22), 4-in-1 Pink Castle Mod combo, 4-in-1 Princess Combo XL SL, 5-in-1 Castle Combo XL, 5-in-1 Dolphin Combo (Double Lane), 5 in 1 Double Lane Shark Combo, and more.
TDK Party Rentals also provides a variety of bounce houses. These include the 4 in 1 Princess Bouncer, Adventure Jump, Batman Jump, Birthday Cake Jump, Castle Jump (Multi), Dora Jump, Elmo (Sesame Street) Jump, Frozen Jump, LSU Jump, Luau Jump, Mickey Mouse Jump, Modular Jump, Pirate Jump, Saints Jump, Scooby-Doo Jump, Sponge Bob Jump, Sports Jump, Strawberry Short Cake, Wild West Jump, Winnie the Pooh Jump, and more. They also offer a number of interactive games, such as the Quarterback Blitz Game, Soccer Kick Game, T-Ball Game, Twister, and more.
The company wants to point out that the rental service it provides includes delivery and setup of the inflatable. However, additional delivery fees may incur for cities outside of the listed service area. It is also important to note that because of rising gas prices and the possible need for extra labor and truck, travel fees may apply. The company makes sure to arrive early for the party or event to allow early set up, thus ensuring that customers get to enjoy the inflatable or rental for the whole rental time. They can also assure customers that the inflatables they offer for rent are always clean because they are always cleaned and disinfected after every rental. It is important to note that the inflatable needs to be plugged into an electric power source so the company requires the presence of an electrical outlet within 50 feet of the unit or a generator.
Founded in 2009, TDK Party Rentals is a full-service party rental company that is capable and ready to supply the party needs of any event, whether large or small. They have been in business for more than 10 years, supplying the party needs of metropolitan New Orleans and Northshore with clean and new inflatables for birthday parties, festivals, and various events.
Those who are interested in party rental services in New Orleans can check out the TDK Party Rentals website or contact the staff by telephone or email.
###
For more information about TDK Party Rentals, contact the company here:

TDK Party Rentals
Charles Ivry
5045593272
tdkpartyrentals@gmail.com
79139 Jessie Hyatt Rd, Covington LA 70435