Riverside County Car Accident Lawyer Alexander Napolin Is Helping Car Accident Victims
February 10, 2022 at 17:14
Riverside California's best accident injury lawyer Alexander Napolin is helping those who have been in an auto accident in Riverside County seek compensation from the party at fault and if the need arises, take their case to court.
When a person has been in a car accident, the insurance works differently based on whether they were at fault or not. A driver who is not at fault for the accident can expect the car insurance provider of the driver at fault to pay for the medical and car repair expenses. Specifically, the bodily injury liability insurance component of their auto insurance will pay for the victim's medical expenses while the property damage liability insurance component will pay for the damage to the victim's property such as repairs for the car. This is true in most states. However, some states are no-fault states which means that each driver has to file a claim with their own insurance company, regardless of the person who caused the accident. In a no-fault state, the victim will have to file medical claims with their own personal injury protection (PIP) insurance.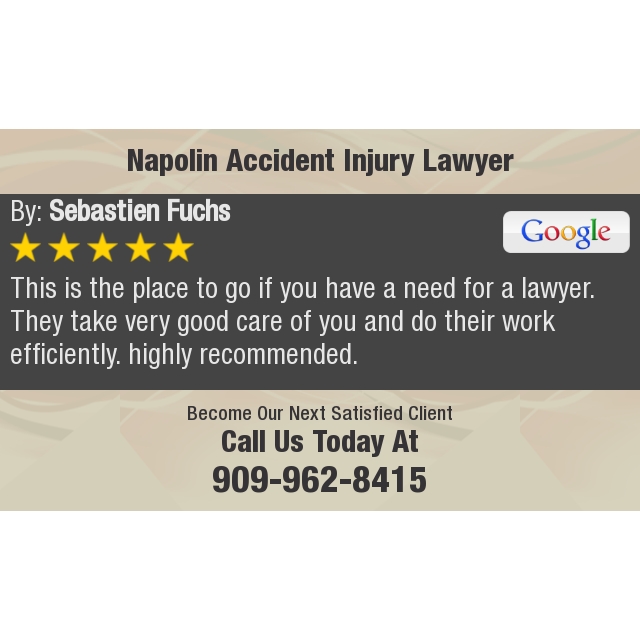 Regardless of whether the person driving the car was at fault for the accident and whether they are dealing with their own insurance company or the insurance provider of the other driver in the accident, Riverside personal injury attorney Alexander Napolin says that there are many benefits to finding an attorney as soon as possible. A car accident victim can save a lot of money if they make sure to find legal representation early on because getting money from an insurance company is a long and involved process. A competent and dedicated lawyer will take over all the communication with the insurance company and prevent the victim from being taken advantage of.
The victim has to furnish evidence that the other party was at fault and prove that they were negligent in some form or other to become liable for an insurance payout. Insurance companies deal with such claims on a daily basis, are extremely skilled in finding loopholes, and usually cite the most inane reasons for denying paying what they rightfully owe to the victim. Insurance company adjusters are regarded to be extremely insensitive and dismissive of the victim's claims. They are trained to deny claims by abusing technicalities that in no way change the spirit of the claims.
Insurance adjusters usually don't have empathy when talking to someone who has lost time and money in an accident and has also most likely suffered serious physical and psychological trauma. They will correspond with the victim in an almost demeaning and dehumanizing tone in an effort to make the victim give up the quest for restitution, saving the insurance company a few measly bucks in the process. They will also diminish the extent of the victim's injuries by trivializing the doctor's diagnosis, and in some cases, if the victim was not advised to get immediate medical attention and a checkup following the accident, they will outright deny the claim saying that the victim's injuries are inconsequential. This can be very distressing to someone who has been in an accident through no fault on their own and is only looking for modest compensation so that they can pay their medical bills and move on with their lives.
Alexander Napolin, considered by many to be the best car accident lawyer Riverside has to offer, says that he and his team will take over all the communication with the insurance companies and present a united front that makes sure there are no slip-ups and the insurance adjusters are given absolutely no reason to deny a legitimate claim. He is a full-time 100% plaintiff-side lawyer. This means that he has never in his long and storied career represented an insurance company. Instead, he has learned from their devious ways and uses his knowledge to make sure that all of his clients have an airtight case.
Alexander Napolin's Riverside County office can be contacted at the phone number (951) 200-5035. It is located at the address 5750 Division St., Ste. 202, Riverside, California 92506.
###
For more information about Napolin Accident Injury Lawyer Riverside, contact the company here:

Napolin Accident Injury Lawyer Riverside
Alexander D. Napolin
951-200-5035
riverside@napolinlaw.com
5750 Division St., Ste. 202
Riverside, California 92506