Reed Maintenance Services Inc. Is Hiring Roll Off Truck Drivers
Reed Maintenance Services, Inc., a leading dumpster rental company in Unionville, AL is accepting applications for Roll-Off truck drivers. To be accepted for employment the company is requiring applicants to have their commercial driver's license. Reed Maintenance Services, Inc. is an Equal Opportunity Employer and is encouraging qualified females and minorities to apply for the open positions. The benefits offered by the company include life insurance, health insurance, dental insurance, short and long-term disability insurance, a 401(k) plan, as well as paid holidays and vacation.
For more information, visit this link: https://www.facebook.com/reedmaintenance/photos/a.2302042246527177/5049854735079234/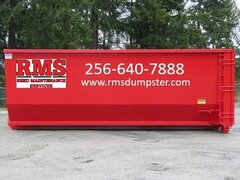 Reed Maintenance Services Inc. is a diversified company with over 30 years of experience in the industrial and construction arena. The company does everything from managing landfills, bio-solid management, dump truck hauling and heavy hauling, to dumpster rentals and portable restroom rentals. The dumpster rental company offers various size dumpsters including 20-yard dumpsters, 30-yard dumpsters, and 40-yard dumpsters.
The company's dumpsters are appropriate for a wide range of waste disposal jobs such as refrigerator disposal, garbage removal, mattress disposal, foreclosure cleanouts, construction waste removal, yard waste removal, trash removal, appliance removal, television disposal & recycling, furniture removal, e-waste disposal, and hot tub disposal. To protect the integrity of the dumpsters and to comply with relevant government waste disposal regulations, the business expressly forbids the disposal of paint cans, aerosol cans, oil, tires, chemicals, sewage, hazardous wastes, liquids of any kind, and batteries in its waste bins.
Reed Maintenance Services Inc. makes scheduling a dumpster rental delivery easy and convenient. All a person has to do is visit the company's state of the art website, and with a few clicks of a computer mouse, an order can be completed. This option however is best suited for those who have a good idea of the dumpster size they might need for their project. Those who may be unsure should call the company's customer service for a free consultation and assistance.
Reed Maintenance Services, Inc. has built up a reputation as the go-to company for any job big or small. In fact, company owner Mike Reed started his company by working hard and taking on jobs other companies did not seem to want to take. Because of his "make it happen" mentality, Mr. Reed grew a successful company that made a huge impact on the industry. So much so, that he was recognized and awarded the ABC North Alabama Eagle Lifetime Achievement Award. "Mike Reed has made a huge impact to North Alabama in the construction industry," said Rogers Group's Anthony Garcia.
For more information about the award, visit this link: https://mgyb.co/s/fFnMi
Reed Maintenance Inc. serves the Alabama counties of Madison, Marshall, Jackson, Morgan, and Limestone, as well as Marion County in Tennessee and the surrounding areas. The company will also deliver to areas outside of its service radius for a fee that varies depending on the client's location. Reed Maintenance Services Inc. also offers special discounts and accommodations to commercial clients who require dumpster rentals on a regular basis.
###
For more information about Reed Maintenance Services Inc., contact the company here:

Reed Maintenance Services Inc.
Shane Withey
(256) 640-7888
shanew@reedmaintenance.com
4700 Union Grove Rd
Union Grove, AL 35175