Multiple Dumpster Rental Size Options in Cherryville NC Now Available Through Drum's Discount Dumpsters
Drum's Discount Dumpsters, a company based in Lincolnton, NC, is pleased to announce that they are ready to offer a range of rental size options for dumpster rental in Cherryville, NC and neighboring areas, such as Lincolnton, Hickory, Stanley, and Denver NC. They want to point out that a dumpster rental is a good way to dispose of all the junk and waste that are produced in any kind of construction, clean out, or demolition activity. These are roll off dumpsters that come in a variety of sizes and can fit most kinds of jobs. And, unlike the usual way of getting of junk and trash, dumpster rental can allow the client to save a lot of money and eliminate the hassle of taking several trips to the landfill or waste recycling plant. Available dumpster sizes are the: 10 yard dumpster; 15 yard dumpster; 20 yard dumpster; and 24 yard dumpster.
Geoffrey Drum, co-owner of the dumpster rental company, says, "If you need to dispose of large amounts of garbage, but don't want to deal with the hassle of renting a dumpster, one of our roll-off dumpsters is the perfect solution. Roll-off dumpsters are convenient and affordable, and can accommodate any project. Using a dumpster will save you from multiple trips to the local landfill and minimize the time you spend removing waste from your property. The most common items you can place in a roll-off dumpster are mattresses, box springs, chairs, and entertainment centers. You can even throw away appliances and other items, as long as they are not hazardous. For example, you can throw out old refrigerators, dryers, washers, and air-conditioning units. However, keep in mind that you should not place any hazardous materials in your roll-off dumpster."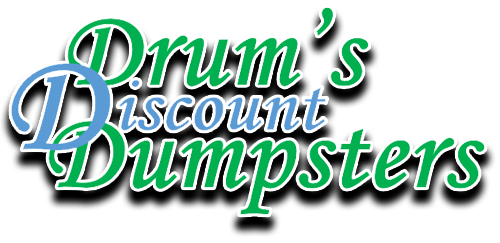 The 24 yard dumpster measures 16 feet in length, 7 feet in width, and 6 feet in height. It is capable of holding up to 10 times a pickup truck load. It is usually employed for the waste disposal needs of: estate clean outs; large home and commercial clean outs; demolition jobs; and home addition projects.
The 20 yard dumpster measures 14 feet in length, 7 feet in width, and 5.5 feet in height. It has the capacity for holding up to eight times a pickup truck load. It may be used for relatively large projects, including: remodeling projects for bathrooms or kitchens; clean outs for a basement, large attic, or garage; debris from roofing projects; waste from light demolition projects; and home clean outs.
The 15 yard dumpster measures 14 feet in length, 8 feet in width, and 4.5 feet in height. It has a capacity of approximately six times a pickup truck load. It can be used for relatively small projects, such as: removal of waste and junk from the yard waste; clean out of a huge room, such as a bedroom, attic, garage, or basement; various types of home renovation projects, such as the installation of kitchen cabinets, the removal of flooring, walls and carpet, and the remodeling of a laundry room; and the repair of a sidewalk or driveway.
The 10 yard dumpster measures 14 feet long, 7.5 feet wide, and 3.5 feet high. It can contain up to four times a pickup truck load. It is often used for small-scale projects, such as: outdoor yard cleaning projects; small home renovation projects; room decluttering and clean out projects; and small home remodeling activities.
They want to point out that it is important to always consider safety when renting a dumpster. First, it is always important to know where the dumpster will be placed. Some dumpster rentals may need a permit but usually, putting a dumpster in the driveway is acceptable. Other areas, may need a permit. And it is also important to check the rules of the homeowners association. Second, it is important to ensure that children don't play with or near the dumpster.
Drum's Discount Dumpsters was founded by Geoffrey and Cassondra Drum for the purpose of meeting the waste disposal needs of their community members. They wanted to provide them with an easy and hassle free dumpster rental process to help them with the waste disposal needs of their projects.
To learn more about their dumpster rental services, people can visit the Drum's Discount Dumpsters website, or contact them through the telephone or via email.
###
For more information about Drum's Discount Dumpsters, contact the company here:

Drum's Discount Dumpsters
Geoffrey and Cassondra Drum
(704)-701-7449
drumsdiscountdumpsters@gmail.com
1550 Buffalo Shoals Rd
Lincolnton, NC 28092