MeCopyWriter.com Supports Business Growth With Email Copywriting
September 08, 2020 at 23:56
Phoenix, AZ based MeCopywriter.com is pleased to offer their website design, email copy, press release and media kit services to local businesses that need assistance with their online content creation. The company provides a variety of online marketing services aimed at helping businesses generate leads via the internet.
More people than ever are using the internet to find goods and services, and the vast majority of businesses have consequently found that online marketing and Search Engine Organization (SEO) are absolutely necessary to ensure their success. When potential customers visit a website, they often want to find clear information on the service or product they are looking for in order to make a decision. Fortunately for Phoenix businesses, MeCopywriter.com helps their clients create websites that provide such information both quickly and succinctly.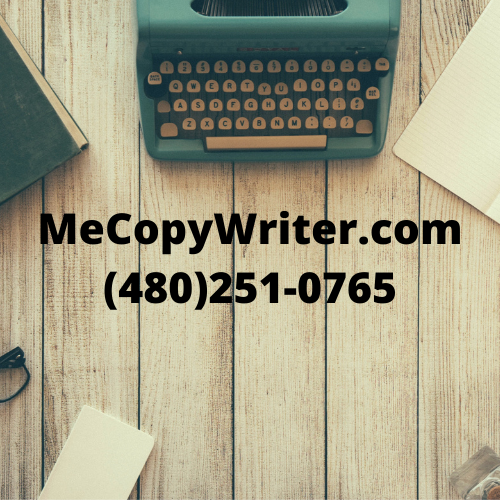 Copywriting is usually best left to professionals. It is the process of creating the content that appears on a website, in professional emails and other media. Having a subpar copywriter can be a serious liability as they often do not have the knowledge and skill needed to produce quality content. Whether it involves email copywriting or some other form of copywriting, having an expert do it is important if one wishes to see any sort of success.
"If you have an amateur writing content for your website or writing the emails that go out to potential clients, you have a serious problem," says MeCopywriter.com. "They don't know what attracts clients, they don't follow SEO best practices and they usually make mistakes that professionals know not to make. You don't want subpar writing on your website, and you definitely don't want to be sending unprofessional emails to potential clients. This is why it is usually best to work with a professional. They know what sort of writing gets clients interested in doing business, and they know what sort of content draws the attention of popular search engines. We offer professional copywriting, and you can rely on us to have customers rolling in once we get started."
One of MeCopywriter.com's areas of expertise is email copywriting. Email copywriting is essentially the art of writing emails, and it is how businesses both express ideas and convince prospective customers to respond to a call to action. MeCopywriter's email copywriting services ensure that clients feel compelled to do business. The online marketing agency also offers website copywriting, which is the creation of all the written content that appears on a website. Similar to email, the purpose of website copywriting is to encourage potential customers to take action that eventually results in a sale.
Once customers express interest, the next step is to inspire them to actually go through with the sale. Direct response copywriting is another service offered by MeCopywriter.com, and it is the process of inspiring buyers to take action as soon as they are finished reading. It is the process of turning a potential customer into an active customer, and MeCopywriter.com is highly experienced in this area — having helped many businesses increase their leads and conversions by a notable amount.
SEO copywriting is another one of MeCopywriter's services, and it is one of the most important aspects of online marketing. As MeCopywriter says, "What do you do when you need a particular service or product? Years ago, you might have opened up a copy of the Yellow Pages to find what you were looking for, whereas you now simply open up your search engine of choice, enter a few search terms and click on the first link. Most people choose who they will work from the first page, which makes the first page the place to be. You might be the best in your field and you might have the best product, but none of that matters if no one knows you exist. This is what SEO is for. SEO makes sure that your page appears before the competition's pages and customers find you first."
https://youtu.be/A4WYuXbuIEk
Due to their commitment to innovation, expertise and excellence, the MeCopywriter team is one of the best choices for businesses looking to grow through online marketing. The agency offers professional copywriting that has been shown to be very effective in creating and converting leads. For more information, visit MeCopywriter.com. Their team would be more than happy to help with any and all things related to lead generation.
###
For more information about MeCopyWriter.com, contact the company here:

MeCopyWriter.com
Paul
4802510765
paul@mecopywriter.com
MeCopyWriter.com
4747 E. Elliot Rd
Phoenix, AZ 85044
(480)251-0765