Martibirds Inflatables Brings The Fun With Party Equipment & Rentals
February 04, 2021 at 16:19
Houston, Texas based Martibirds Inflatables is pleased to announce that they provide everything a party needs to get off the ground and leave a lasting impression on its guests. The company is known for being able to accommodate tight schedules, and they are currently standing by to respond to any client's requests for assistance.
Martibirds Inflatables is a family-owned company that was established in 2014, when they originally focused on waterslide rentals. A year later, they expanded their inventory to include many different inflatable bounce houses, waterslides and interactive games. These improvements have brought new and exciting custom party equipment to families and other clients in Houston. Now, the company also offers outdoor movie screens, interactive inflatables, obstacle courses, bounce houses and more.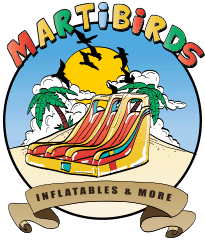 Martibirds' goal is to provide high-quality and enjoyable services to their customers, who they treat as an extension of their family. They pride themselves on being able to provide reserved rentals on schedule that are properly set-up by their experienced event professionals.
Martibirds moonwalks & waterslides are some of the most popular rentals they provide. The company has a great selection of bounce houses, bounce castles and moonwalks that are perfect for any event thrown in Baytown and Houston, Texas. Clients may choose from various characters, cartoons and movie stars from Disney and many other properties. Their rental prices vary depending on the design chosen.
As for the waterslides, Purple Crush slide and Master Blaster are some of their biggest hits. Purple Crush slide is famous for its massive size (nearly four stories tall), and it boasts a length of about 100 ft. It is more suitable for large events and crowds. If the client in question, however, has a smaller event, Master Blaster is the waterslide for them. This waterslide features dual lanes and is the perfect size for backyard parties and events. Martibirds has a variety of other waterslides to choose from as well, and they are swift to point out that nothing beats the Texas heat better than Martibirds' waterslides.
The company is also pleased to offer combo bouncers. Fairly similar to bounce houses, combo bouncers are exciting inflatables with additional elements that kids and adults alike may enjoy. Clients may choose from a great selection of inflatables and designs that kids (and kids-at-heart) will surely love. Obstacle courses are provided by the company as well, and these exciting rentals are a great way to create a healthy competition and bond between guests. They may also serve as an effective team building activity.
Furthermore, Martibirds now offers mechanical rides. Those interested are welcome to check out their trackless train and mechanical bull in The Woodlands in Texas.
Of all their rental services, Martibirds' greatest hits include the Millennium Falcon, Extreme Radical Run, T-Rex Combo, Mechanical Bull, Sesame Street and Texas Throttle. More details about Martibirds' great party rentals can be found here: https://www.martibirdspartyinflatables.com/.
Martibirds' Inflatables is dedicated to providing a hassle-free event package to their clients. They also highlight the benefits of hiring a rental company when hosting or planning an event. First and foremost, rental companies like Martibirds Inflatables provide several packages and services that will be of great help to people as they plan their events. They can guide clients in multiple decisions, including what parts, equipment and services are essential to make their events more successful. This way, they can focus more on the other details of the party.
Next, party rental companies can help with setting up and tearing down all of the equipment used. They will make sure that the rented party equipment is installed properly and then kept in working condition throughout the rest of the event. Clients can count on Martibirds to set up and break down party rentals both safely and professionally.
Furthermore, party rental companies like Martibirds Inflatables tend to have more equipment than one will expect. A client may have some party equipment of their own, but hiring a rental company will help make their event even more complete and successful. Martibirds aims to provide whatever their client needs to ensure a fun and engaging party. They have a great selection of fun equipment and activities, ranging from obstacles to waterslides, which can be rented at reasonable prices.
https://www.youtube.com/watch?v=_KO5OBwxyt4
Martibirds Inflatables states that they are here to provide party rentals that their community never knew they needed. Those planning to host an event in Houston and the surrounding areas may visit the Martibirds Inflatables website for more details about the rentals and services that they provide. The company can also be reached through their social media channels.
###
For more information about Martibird Inflatables, contact the company here:

Martibird Inflatables
Jason Wasson
(832) 414-0837
jbird201082@gmail.com
Houston, TX