Life-Saving Addiction Treatment and Covid-19 Precautions Move Former Rehab Patient to Give WhiteSands Plant City a Five-Star Review
November 23, 2020 at 22:42
Plant City, FL - WhiteSands Alcohol and Drug Rehab has overcome multiple obstacles of the Coronavirus pandemic to continue providing excellent addiction treatment to all who seek it. A former patient by the name of Justin recently left a 5-star review crediting WhiteSands in Plant City with saving his life. Justin sought treatment at WhiteSands during the height of the Covid-19 pandemic and was relieved to feel he could get the care he needed in a safe and comfortable environment. Read the full article on WhiteSands world-class addiction care.
"I was a client during the Coronavirus outbreak and always felt good about their safeguards and policies concerning the virus," he states.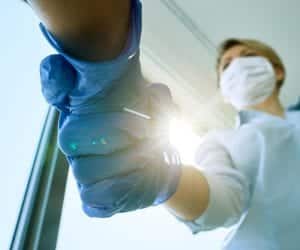 The pandemic, and quarantine measures taken to combat it, have been hard on the entire world, but people struggling with substance abuse have been hit especially hard. Anxiety, isolation, loss of a loved one, and financial strain are some of the many challenges presented by the pandemic and also significant triggers for substance abuse. The need for high-quality, effective addiction treatment is greater than ever.
As alcohol and drug rehab centers meet this increased demand, they face new challenges in keeping patients safe from Covid-19 infection. WhiteSands has risen to the occasion going above and beyond to ensure patients can focus on their recovery without worrying about the virus. The center has shown unwavering dedication to following strict protocols ensuring they can continue to provide the excellent care they're known for.
"WhiteSands allowed me to safely focus on myself and recovery," Justin said.
Some of the Covid-19 precautions taken by WhiteSands include practicing social distancing, mandating face coverings be worn throughout the property, reducing the size of group gatherings, and expanding hours of operation for the gym and other amenities so that everyone has a chance to enjoy them. WhiteSands has always provided patients with private rooms and bathrooms, a feature that is even more beneficial now. WhiteSands has seen that patients' comfort is an important factor in their successful treatment and they remain dedicated to ensuring clients can relax and feel safe and secure as they work towards recovery.
Like many who enter treatment at WhiteSands, Justin had neglected his health for some time and arrived at the addiction treatment center malnourished and unhealthy. Medical staff, dieticians, and personal trainers worked with Justin to help restore his body back to health while the center's various forms of one-on-one and group therapy focused on balancing his mental state. To read the https://goo.gl/maps/5aV1FLjtq82vmhnP9 that Justin left please click the link.
WhiteSands takes a holistic approach to substance abuse treatment attending to each client's physical, mental, and emotional well-being. Caring for people as individuals and addressing all aspects of their health is one of the reasons WhiteSands was recently voted the number one addiction treatment center in Florida by Newsweek magazine.
WhiteSands has achieved its reputation for excellence by never faltering in its dedication to patient success. The addiction treatment center maintains a low patient-to-therapist ratio and provides medical detox with a full-time medical director and psychiatrist on-site. After detox, patients participate in a range of evidence-based therapies which can be continued long term through the center's 19 outpatient locations across the state of Florida. WhiteSands also provides clients with a range of activities and holistic modalities including chiropractic care, massage, nutrition, and personal training in their state-of-the-art athletics complex. The drug and alcohol rehab's successful treatment model takes place within an amenity-filled 10-acre campus where each guest has their own private room and laptops and cell phones are allowed.
https://www.youtube.com/watch?v=UONkSbPkG1A
If someone is struggling with substance abuse, don't hesitate to contact WhiteSands anytime day or night to learn how they can help. Their caring staff is standing by 24 hours a day, 7 days a week to answer questions about their program and whether rehabilitation treatment is the right next step for those who are struggling.
###
For more information about WhiteSands Alcohol & Drug Rehab Plant City, contact the company here:

WhiteSands Alcohol & Drug Rehab Plant City
(877) 640-7820
2011 North Wheeler Street, Plant City, FL 33563