Kratky Method of Hydroponics Extends Growing Season
Flower Mound, TX -- Gardening is a popular pastime across the globe. People love to garden but hate doing all the chores that come with it. Utilizing a very little-known method, called the Kratky Method of Hydroponics, growing seasons can be extended to year-round indoors. The Kratly Method of Hydroponics is a little-known gardening method that is catching on in the hydroponic world. And with good reason. There are many benefits gardeners simply love. "Being able to grow indoors creates a solution for avid gardeners who enjoy gardening. There is virtually no weeding, no pests and the process is simpler and easier. Gardeners get to grow year-round in a very small space," said Lisa Parziale, an avid Kratky Method hydroponic home gardener. "The level of work is literally one tenth of traditional gardening but the yield per square foot is amazing."
The Kratky method of hydroponics was invented by Bernard Kratky, a professor at the University of Hawaii. Kratky's method is a simple and easy way to grow plants without the need for a lot of equipment. This method is great for growing plants in a small space, and it is also a great way to grow plants for food or medicine. Using very little water, no soil and minimal care, the Kratky Method of Hydroponics allows a novice to grow healthy plants and harvest abundant fruits and vegetables.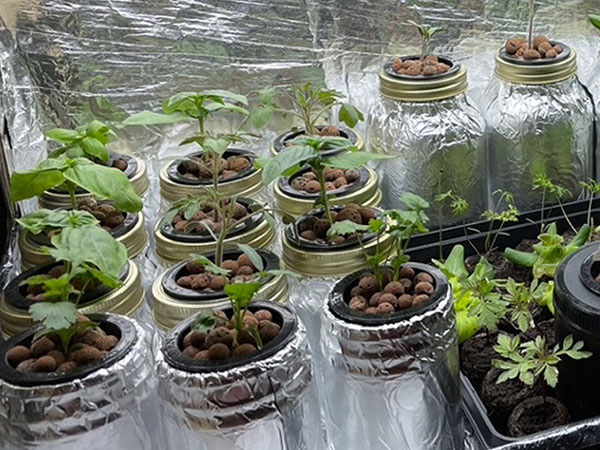 "The initial investment can run about $150 in the base supplies. However, that investment will last for many growing seasons. The harvest is still very abundant, with yields as high as 1000 pounds of produce, mostly lettuce, tomatoes and herbs, in a 5x10 foot space," Parziale shared. "The great thing is, gardeners don't need to weed or worry about bugs and such. The Kratky Method is so simple and easy to manage."
For some, growing their own crops are a way of life and likely, the Kratky method would be very hard to do on a large scale, but for the average gardener, Kratky Hydroponics can simply extend the growing season on table favorites, like lettuce and tomatoes.
About Kratky Method of Hydroponics
The Kratky Method of Hydroponics is a website dedicated to hydroponic growing using the Kratky method. This soil-less growing method allows gardeners to grow everything the Kratky way, including tomatoes, peppers, herbs and lettuce.
###
For more information about Kratky Method of Hydroponics, contact the company here:

Kratky Method of Hydroponics
Lisa Parziale
9729799316
lisa@portsidemarketing.com
1011 Surrey Lane, Bldg 200
Flower Mound, TX 75022
United States