Helping Cans, LLC Offers Dumpster Rental Service In Tulsa
Tulsa, OK based Helping Cans, LLC is ready to meet all their community's dumpster-related needs for the foreseeable future. Offering dumpster rentals in a range of sizes, the company can serve both residential and commercial customers with ease, and they are pleased to offer a convenient booking facility through their website. Customers may use the website at any time to schedule a rental via the included calendar. Get started here: https://www.helpingcans.com/.
Helping Cans' dumpsters come in five distinct sizes, and this is the only difference between each variant. They are all extremely durable and sturdy, and they can safely be left unattended in virtually all weather conditions that might arise in Tulsa and its surrounding areas. They are designed to contain weight that measures in the tons, so customers can always rest assured that anything items, trash or other junk they deposit in their rental will not cause it to break under load. The company says all their dumpsters can be rented for a standard period of five days, but this can be extended at the customer's request for a nominal fee. The same is true if they have to go above a dumpster's included tonnage; a fee will be charged per extra ton but customers are generally welcome to fill it as much as they want. Further, should the customer be done with their dumpster before the end of the rental period, they may contact Helping Hands to schedule an earlier pick-up.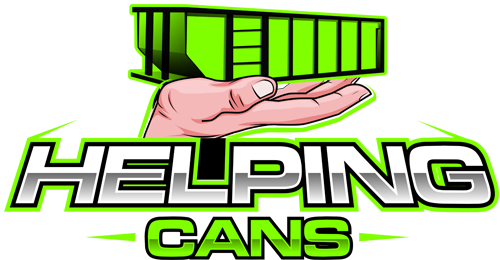 Since the company works with homeowners as well as businesses, they are quick to explain that the waste disposal needs of most homes will likely be satisfied by their 10-yard, 15-yard or 20-yard dumpsters (with the smaller two being the most popular among residential communities). The 20-yard dumpster is often required only when the project in question is particularly extensive, such as when dealing with hoarder homes or the contents of entire yards. Helping Cans understands that homeowners will not know which dumpster is right for their purposes, but they recommend going with one size larger than the project appears to need if there is any concern. Alternatively, they may contact the company's helpful customer service team for a professional's direct recommendation. Helping Cans will always be pleased to hear the customer out and help them make the right choice.
Conversely, the company knows from experience that businesses will often require a larger dumpster when the need arises. This includes several different types of commercial enterprises, from construction firms to offices and so on. Here, the company suggests that customers consider renting either the 30-yard dumpster or the 40-yard dumpster. Whichever they choose, Helping Cans says the customer may request a swap out service, if necessary, where an empty dumpster will be left in the previous unit's place when it is picked up. This can be implemented for as long as the customer wishes.
Helping Cans is always willing to go the extra mile to ensure their customers get their dumpster on time, and they are keen to give back to the community wherever possible. Customers often appreciate the fact that they can nominate a charity of their choice when requesting a rental, following which a portion of the proceeds from that rental will be donated in the customer's name. A receipt will also be provided to confirm this.
As a Google review from Elizabeth B. says, "Helping Cans was very professional and efficient. I love that part of the cost is a charitable donation. The owners provided amazing customer service. I would definitely use them again!" Similarly, Shea C. comments that it was, "a great experience to use a dumpster from Helping Cans! You won't find a better company to work with!" More reviews and other information can be found here: https://goo.gl/maps/gFfL1JbC3tRn9PTN7.
The company seeks to evolve their service along with their community's needs, so they are always ready to receive feedback that can help them accomplish this. Should a customer have any recommendations or requests to share, they are welcome to discuss this with a company representative.
###
For more information about Helping Cans, LLC, contact the company here:

Helping Cans, LLC
David Burton
918-216-0151
helpingcans4u@gmail.com
N/A