Futures Recovery Healthcare Discusses Alcohol Detox in New Blog Post
Futures Recovery Healthcare, which is based in Tequesta, FL, has recently published a blog post that provides information on alcohol detox that is important for people who are battling with an alcohol use order (AUD) or have a loved one with AUD. Alcohol detox is the first stage in the treatment of alcoholism. According to the National Institutes of Health, it is a period of medical treatment that typically includes counseling and the individual is assisted in overcoming psychological and physical dependence on alcohol.
Alcohol detox is actually a serious and complicated process and should never be done by an individual alone or it may lead to serious and fatal consequences. It is a process that needs the support and guidance of doctors or addiction specialists. It is believed to be the most difficult part of the alcohol addiction recovery process and this is due to the impact of the alcohol withdrawal syndrome (AWS). AWS will differ in intensity from individual to individual and it occurs as a result of a person suddenly stopping alcohol consumption or gradually reducing it.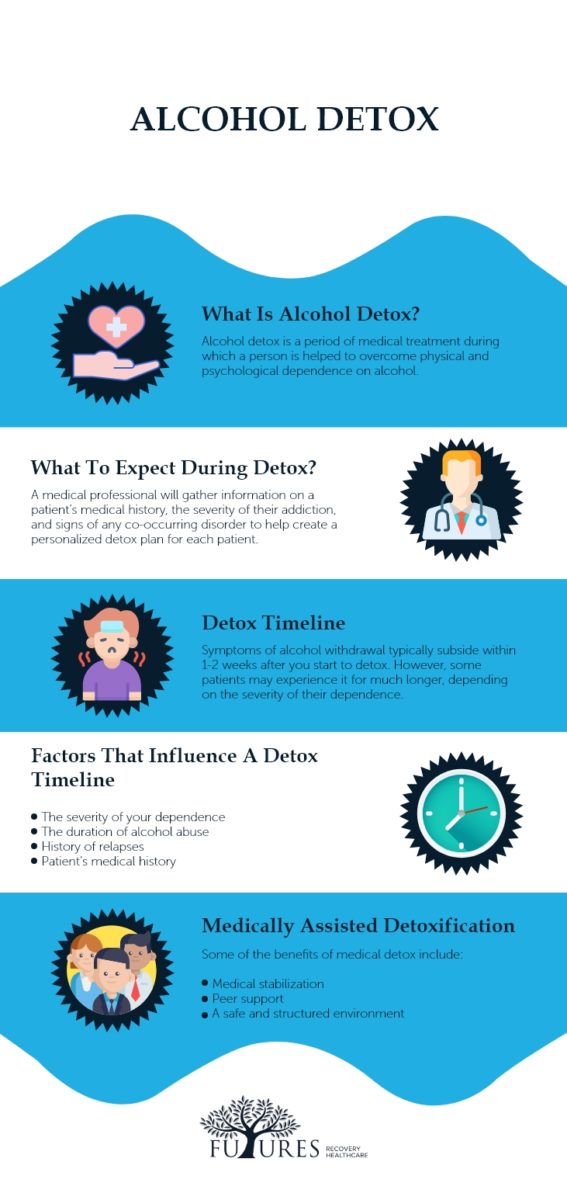 The alcohol detox period may last for seven to 10 days, and the symptoms of alcohol withdrawal usually subside within one to two weeks. However, depending on the severity of the alcohol dependence, some may experience the withdrawal symptoms for a longer period. These symptoms may change fast and suddenly, which is why medical professionals should be on hand during this period so that the symptoms can be managed, sometimes with the help of medications. The patient's physician will specify the appropriate level of medical intervention and monitoring that is needed for the patient to be safe and stable.
During a detox program, the patient is placed in a secure and encouraging environment that may help in overcoming the withdrawal symptoms. Medical professionals will carefully evaluate the patient for any physical or psychiatric problems at the start of the alcohol detox process. This assessment will be done by examining the patient's medical history and the severity of the alcohol addiction, and look for signs of any co-occurring disorder, after which a customized detox plan will be developed for that particular patient. And during the actual detox process, medical professionals will carefully monitor the patient to make sure that withdrawal symptoms don't get worse and the patient's health will not be at risk.
There are three stages of the withdrawal symptoms. The first stage consists of mild withdrawal symptoms, such as headache, anxiety, hand tremor, insomnia, heart palpitations, and gastrointestinal disturbances. Stage 2 consists of moderate withdrawal symptoms, such that in addition to mild symptoms experienced during the first stage, the patient may also experience confusion, mild hyperthermia, increased blood pressure or heart rate, and rapid breathing. And Stage 3 consists of severe withdrawal symptoms, which include the stage 2 symptoms plus visual or auditory hallucinations, disorientation, impaired attention, and seizures. It should be noted that the most serious withdrawal symptom is delirium tremens (DT), which may be life-threatening. This may occur within two to five days from the start of cessation of drinking alcohol and affects approximately five percent of patients. DT may cause a stroke, heart attack, or even death, if it is not treated.
At Futures Recovery Healthcare, they really understand the difficulty and complexity of recovering from alcohol withdrawal symptoms. Their goal is to help patients undergoing alcohol addiction treatment attain long-lasting recovery through comprehensive treatment plans and medically assisted alcohol detox programs.
There are a number of factors that can affect the duration of the alcohol detox process. These include: the duration of alcohol abuse; the severity of the alcohol dependence; the patient's medical history; history of relapses; polydrug abuse; the patient's weight and age; nutritional deficiencies that resulted from the alcohol use disorder; and symptoms of a co-occurring disorder.
https://youtu.be/PZdwLZyPFF8
Those who are interested in the alcohol addiction treatment services offered by Futures Recovery Healthcare may want to check out their website or contact them on the phone.
###
For more information about Futures Recovery Healthcare, contact the company here:

Futures Recovery Healthcare
Deja Gilbert
561-935-4227
dgilbert@futuresrecoveryhealthcare.com
701 Old Dixie Hwy
Tequesta, FL 33469