Easy Online Reservations For Bounce Party Rentals
MS based Adventure Jumps of Mississippi is pleased to announce that customers may use the company's official website to swiftly and conveniently make their next reservation for a bounce party. Customers need only fill in the required details, including date, time and location, to get started, and they can similarly view the company's entire inventory through this platform. The website can be found here: http://www.adventurejumpsofmississippi.com/.
"Customer service and satisfaction are our primary goals at every party and event," states Adventure Jumps of Mississippi. We want every aspect of your experience to be as smooth and hassle-free as possible so that you can enjoy the fruits of your labor — your party. Our team understands the numerous factors that go into party planning, and many of our customers have similarly discovered that it can be a tiring, time-consuming process. However, with our help, getting a bounce house or other rental can be the least of your concerns. Just visit our website today to take a look at everything we have to offer and fill in the reservation form to get started." The company adds that customers are welcome to contact their staff directly via phone or email if they wish to clear up any further inquiries or request more personalized assistance.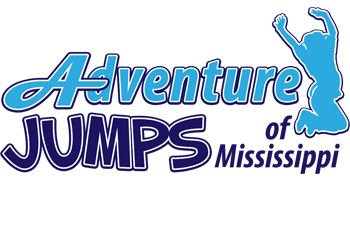 While bounce houses are among the company's most popular items, Adventure Jumps of Mississippi offers their community a large selection of rentals to choose from. They provide combo bouncers, wet combo bouncers, water slides, dry slides, obstacle courses (and interactives) and more. Customers who wish to build larger events are also welcome to look over the company's package deals, which provide a selection of rentals for highly attractive rates.
Alternatively, the company points out that bounce houses should not be sole consideration for every single event. For instance, those who will not be using the bounce house (parents and so on) will likely need a space for themselves, so the company is pleased to provide tents, chairs, tables, concessions and so on for this purpose. Adventure Jumps of Mississippi adds that events situated away from easily accessible power outlets need not be without electricity either (whether for lights or other facilities). While browsing the website and building a list of party equipment, customers are welcome to add a 5500 Watt Generator to their purchases if necessary.
Adventure Jumps of Mississippi is pleased to share that their team is able to deliver rentals to many areas, including Madison, Morton, Pearl, Brandon, Ridgeland, Flowood and so on. A full representation of their service coverage can be found on the website as well. Customers who find themselves outside this coverage zone, fortunately, need not be too concerned about being unable to order their favorite rental. The company reassures their community that they are more than willing to go out of their way to make a delivery as required. In such cases, the customer should be aware that extra fees may apply, depending on how far they are outside the company's service area.
On the same note, Adventure Jumps of Mississippi states that their team has a great deal of experience working with local residents as well as navigating the many challenges their community presents them with. This means that they understand what their customers need and are always ready to provide special accommodations in unique circumstances. Traveling farther out to make a delivery is only one aspect of this extended service, and customers are invited to bring their concerns directly to the company's representatives to request a customized solution.
"Every rental we provide is guaranteed to be clean and delivered on time," the company proudly states. "The prices you find on our website are inclusive of delivery and setup as well, and customers from other cities are also welcome to make use of our services for a reasonable delivery fee. Let us know what your party needs, and we will do everything in our power to make it happen."
In addition to the company's website, customers can get in touch with Adventure Jumps of Mississippi via their social media platforms. Find them on Facebook at the following link: https://www.facebook.com/AdventureJumpsOfMississippi/.
###
For more information about Adventure Jumps of Mississippi , contact the company here:

Adventure Jumps of Mississippi
Timothy Phillipson
601-672-7984
5910 US-80
Morton, MS 39117