D.I. Auto Care Provides Mobile Detailing Services For Phoenix Residents
Arizona-based car detailing service D.I. Auto Care is pleased to announce that the residents of Phoenix and the surrounding areas may now take advantage of their mobile detailing services. With over 30 years of experience in the industry, Paul, the owner of D.I. Auto Care, specializes in providing auto detailing services for a variety of vehicles, including cars, trucks, motor coaches, RVs, planes, boats, high-performance cars and more.
Paul says, "Frequent detailing is part and parcel of comprehensive vehicle maintenance, and sadly, the onset of the COVID-19 pandemic has meant that we can't all go out to get our vehicles detailed. However, communities in Phoenix and the surrounding areas should be glad to know that D.I. Auto Care provides a mobile detailing service. You don't need to take your vehicle anywhere or even step out of your house. We will come to your location and carry out the detailing for you."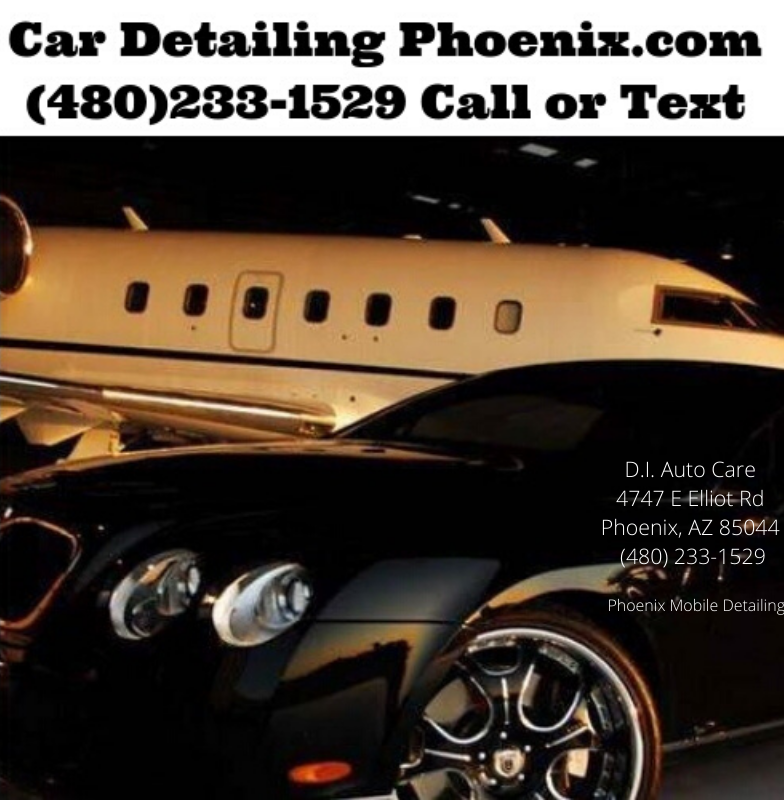 Vehicle detailing is a more thorough process than simple washing. Where washing a vehicle only focuses on its surface level look, detailing takes things a step further. The procedures done by the D.I. Auto Care teams as part of their vehicle detailing service all contribute to increasing a vehicle's overall quality and lifespan. As the company explains it, on top of generally cleaning the vehicle, their mobile detailing process will remove any and all contaminants that may be damaging the vehicle, correct issues like scratches and swirls, protect the paint job of the vehicle and conditioning the interior.
Paul says, "If you miss that new car smell, if you want to step into your vehicle and feel like you are driving it for the first time again, you absolutely need to make sure that you detail it, and there is no one better than the D.I. Auto Care team in this regard. We take pride in our work, and we know we can bring every vehicle back to an almost new condition and give you a vehicle you can be proud of — if you are interested in our services, please get in touch with us."
D.I. Auto Care has earned its popularity among their clientele by providing a reliable Mobile Auto Detailing service. On the Yelp platform, D.I. Auto Care has a perfect rating of 5/5 Stars. Katie R says in her straightforward review, "Thank you, both our cars look better than brand new.
Takes cash, credit cards and checks."
Meanwhile, Becky S. praises the company in their review, explaining that, "I can't even say enough great things about Paul and his exemplary work. We just recently moved us and our home cross country to AZ, and by the end, my car was in dire shape, so I gave D.I. Auto Care a call as a first time customer in hopes it could get some serious TLC. From our very first phone call, he was friendly, informative, professional and listened to specific requests I had. He made me feel valued and came out promptly at our scheduled time and got straight to detailing. He not only did a phenomenal detailing of my car but I can see he addressed every nook and cranny in the vehicle, leaving it — no joke — better than brand new."
The review adds that the service, "Definitely went above and beyond what I was hoping! I couldn't believe the effort he put into my vehicle and turned it into a total joy to drive in. He really put 200% into detailing the car, and I cannot thank Paul enough. I highly recommend his services to anyone looking for a top notch detailing service! It's worth every single penny and then some. I will definitely use his services again for any car detailing needs."
D.I. Auto Care also provides a host of other services, such as window tinting, tint removal, spray-on ceramic coating paint protection, auto glass windshield repair and replacement, car waxing and buffing and more. Customers are welcome to inquire further to learn what service would best suit their vehicle's needs.
Those looking for mobile car detailing services or who simply want to learn more about D.I. Auto Care and all the services they provide are welcome to visit the company's website to get started. They encourage interested parties to get in touch with Paul directly via email or phone as well, and the company can also be reached through the contact form on their website.
###
For more information about D.I. Auto Care , contact the company here:

D.I. Auto Care
Paul
4802331529
paul@cardetailingphoenix.com
D.I. Auto Care
4747 E Elliot Rd
Phoenix, AZ 85044
Phone: (480) 233-1529