D.I. Auto Care Provides Auto Detailing Near Me Services
Phoenix, Arizona-based D.I. Auto Care is pleased to announce that they are providing comprehensive auto detailing services for residents of Phoenix and the surrounding areas. D.I. Auto Care specializes in providing this unique service for a variety of vehicles, including cars, trucks, motor coaches, RVs, planes, boats, high-performance cars and more. More information about the company and examples of their work can be found at the following link: Auto Detailing Near Me.
Paul, a representative for D.I. Auto Care, says, "While the lockdown measures imposed due to the COVID-19 pandemic mean that your vehicles are probably not getting as much use as they usually would, this doesn't mean that you should drop the ball on taking care of them. There is a lot that goes into taking care of your vehicle, but a critical component is always ensuring that it is frequently detailed. Fortunately, if you are looking for a vehicle detailing service in Phoenix, Arizona, you don't need to look any further than D.I. Auto Care."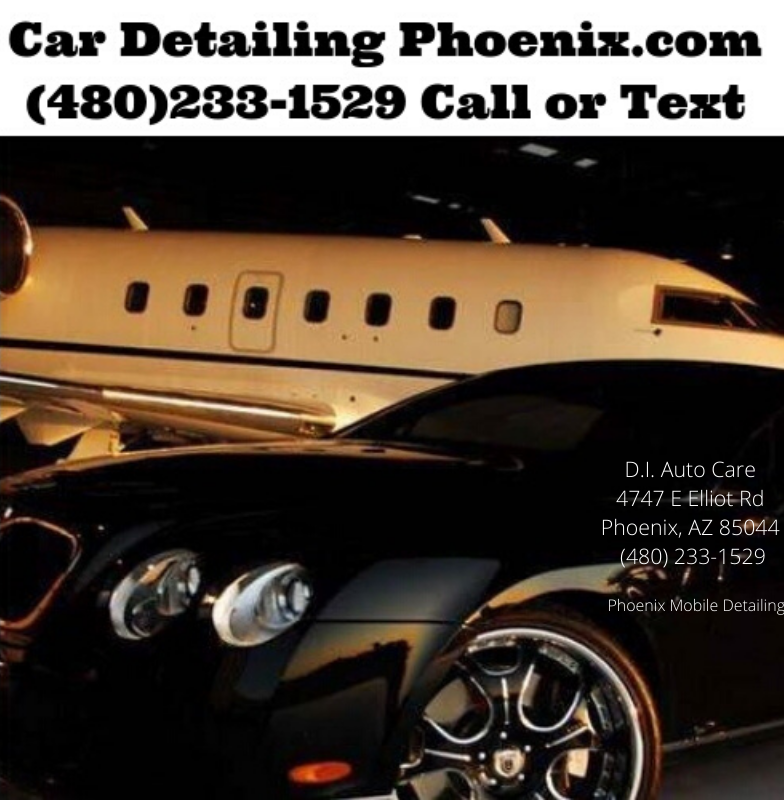 D.I. Auto Care provides comprehensive exterior and interior detailing services to all residents in Phoenix. In addition to their detailing services, the company also provides services that include window tinting, tint removal, spray-on ceramic coating paint protection, auto glass windshield repair and replacement, car waxing and buffing and more.
Paul says, "Understandably, given the current situation, you might not want to go out, especially for relatively non-essential events. However, you'll be glad to know that you don't need to go anywhere to get your detailing done if you work with D.I. Auto Care. While we are still operating safely from our main location, we also offer a mobile detailing service that you can take advantage of. We'll send a team of expert technicians who will take care of all the work that you need both safely and from the comfort of your home or office." Information about the company's mobile detailing service can be found at the following link: Mobile Detailing Near Me.
D.I. Auto Care has made a name for itself by providing high quality services that leave all of their customers satisfied, as made evident by their reviews. On their Google profile, D.I. Auto Care has a stellar rating of 4.8 out of 5 Stars, with a recent review by Haylee Jimeno reading that they provided a, "Really quick and great service. I would recommend and go back to him again when needed. My main concern was to get rid of the nasty smell in my car, and Paul was able to do so!"
Meanwhile, in a Yelp review (where the company has a 5 star rating), Tuyet T. shares that, "Paul was awesome! I was looking to get my seats shampooed before the new year. I had looked around, and he had great reviews on Yelp. He also had availability over the weekend. I scheduled a Saturday at 3pm, and he arrived right on time to my apartment. He got right to it and finished in 2.5 hours. Man, I was impressed! He was thorough and quick. He left my car looking fresh, smelling clean and like I just took it out of the dealership. I drive a Camry, so it's nothing special, but he wiped down the plastic interiors and console, getting rid of all the scuff marks. The nasty spills on my carpets were all gone! I had to leave after he was done, and he even gave me a clean towel to lay on my seats since they were slightly damp. He was professional, and finished in a reasonable time. I ended up paying $100 for the shampoo and interior cleaning! I would definitely recommend him despite all the competition in this region."
https://youtu.be/KDT7bh9wXnQ
Those who want to learn more about D.I. Auto Care and all the services they provide are welcome to visit the company's website or the following link to read further: Exterior Detailing Near Me. They encourage interested parties to get in touch with Paul directly via email or phone. The company can also be reached through the contact form on their website. D.I. Auto Care maintains a presence on Facebook where they frequently post updates, share media and communicate with their customers.
###
For more information about D.I. Auto Care , contact the company here:

D.I. Auto Care
Paul
4802331529
paul@cardetailingphoenix.com
D.I. Auto Care
4747 E Elliot Rd
Phoenix, AZ 85044
Phone: (480) 233-1529