Clean Group Unveils Budget-Friendly Commercial Cleaning Services For SME Businesses
February 22, 2021 at 17:43
Clean Group, a commercial cleaning company that specializes in providing custom cleaning solutions & services to businesses in Australia, has come up with a totally new range of budget-friendly commercial cleaning services mainly intending to help the company's small business clients with their basic & advanced cleaning needs. The company is famous to offer top-level commercial cleaning & office cleaning services at the lowest prices in Sydney, Melbourne, Brisbane and Canberra.
"Not all businesses can afford costly cleaning services, especially when they need it regularly, which is why we have come up with this brilliant new package of cleaning services that are both at par with the industry standards and fits the budget of all kinds of small & large businesses. Our top cleaners Sydney are now available to offer round-the-clock services to help businesses meet their cleaning in a timely manner and without having to spend a lot," says Suji Siv, owner and CEO of Clean Group.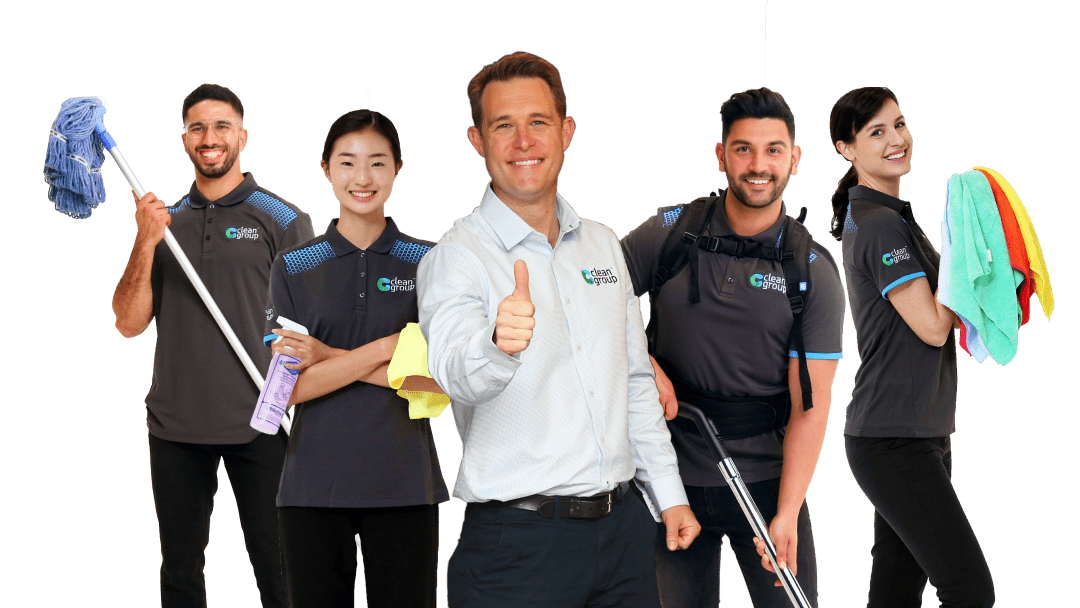 Clean Group provides a variety of commercial cleaning services to businesses throughout Sydney. The company delivers cleaning solutions & services in all suburbs through an in-house team of experienced & trained cleaning professionals able to take up any job. Moreover, they offer special, low-cost packages for their small clients with a limited budget. The commercial cleaning services offered by Clean Group include office cleaning, carpet cleaning, strata cleaning, gym cleaning, school cleaning, among others.
Due to the COVID-19 pandemic, as the demand for disinfection services is rising, Clean Group now also provides complete sanitizing & disinfection cleaning services to its commercial clients. The company has a full-time team of expert commercial cleaners and uses proprietary cleaning solutions & equipment that are designed to be 100% safe for people and the environment.
One of the reasons businesses in Sydney like Clean Group is the company's use of eco-friendly and safe cleaning solutions. They understand how harmful some cleaning chemicals can be for pets & people, especially children and avoid using them. All their cleaning solutions & practices are certified-safe. Also, their cleaners are instructed to strictly follow the company's safe cleaning practices & norms to achieve great results without compromising the health of people around them.
When hiring a cleaning company in Sydney, the cost of cleaning tools & supplies can be significant. So, it's a good thing that Clean Group cleaners bring their own cleaning resources and never ask you to pay extra for anything other than the pre-decided price quote. This greatly reduces the cleaning cost for the client and ensures better results with no hassle.
Besides affordability, Clean Group office cleaners are known to offer top quality in all its services all over Sydney. Their cleaning rates are simply the lowest when compared to other top Cleaning companies in Australia. And they always offer the best quality in all their cleaning projects, with no exception. In fact, the company has a 100% satisfaction policy, which customers can avail themselves whenever they need help during cleaning work or are not happy with the service provided for any reason. The satisfaction guarantee policy of Clean Group makes their customer eligible for a FREE fix of the problem by the company.
Clean Group provides affordable commercial cleaning & office cleaning services to businesses in all industries. The company can be hired for cleaning services on a routinely, monthly or weekly basis as well as for one-off cleaning. Besides regular commercial cleaning, they also offer some specialized services like same-day cleaning, after-hours clean, after builders clean, and NDIS cleaning in Sydney and nearby suburbs.
Many of Clean Group's clients are small businesses, including retail stores, schools and childcare centers who need regular cleaning of their premises but can't afford to pay a lot for the same. Keeping the cleaning needs & budget of such businesses in mind, the company has prepared a new set of cleaning services that comprise a perfect combination of quality & affordability. "We aim to deliver the same level of brilliant cleaning services to our small business clients at reduced prices, which everyone can afford irrespective of their size or business type."
The new, budget-friendly commercial cleaning services of Clean Group are already live and can be booked online via the company website. The service also includes a free, no-obligation quote which can be requested online or via the website.
https://youtu.be/gFgOD37psCE
Businesses in Sydney looking for a reliable & affordable commercial cleaning service can contact Cleaning Group for all their commercial & office cleaning needs anywhere in Sydney.
###
For more information about Clean Group, contact the company here:

Clean Group
Suji Siv
1300 141 946
sales@cleangroup.email
14 Carrington St, Sydney NSW 2000