Clean Group Offers 100 Percent Guarantee for the Work of Office Cleaners in Sydney
January 15, 2021 at 17:33
Clean Group, a professional cleaning company in Sydney, NSW, Australia, is pleased to announce that the work provided by their cleaners for offices in Sydney and neighbouring areas comes with a 100 percent guarantee. They want businesses to know that they are serious about always achieving excellence in the work that they do, often exceeding customer expectations. This guarantee means that if the customer is not satisfied with the work done by the cleaners, for whatever reason, the customer will simply need to inform them within 24 hours and they will fix the issue for free promptly.
Suji Siv, CEO and owner of the Clean Group, says, "The reason we can make such a guarantee is because we have made sure that we can provide the best office cleaning possible in Sydney and throughout Australia. Our professional cleaners have adequate experience and skills and they have been well-trained. In addition, we have invested in the most advanced cleaning equipment and tools we can find, such as the HEPA multi-function vacuum cleaner, the i-mop with its twin rotating brushes that make cleaning floors fast and easy, microfibre cloths for wiping, antibacterial microfibre mops, and environmentally friendly cleaning solutions like Viraclean."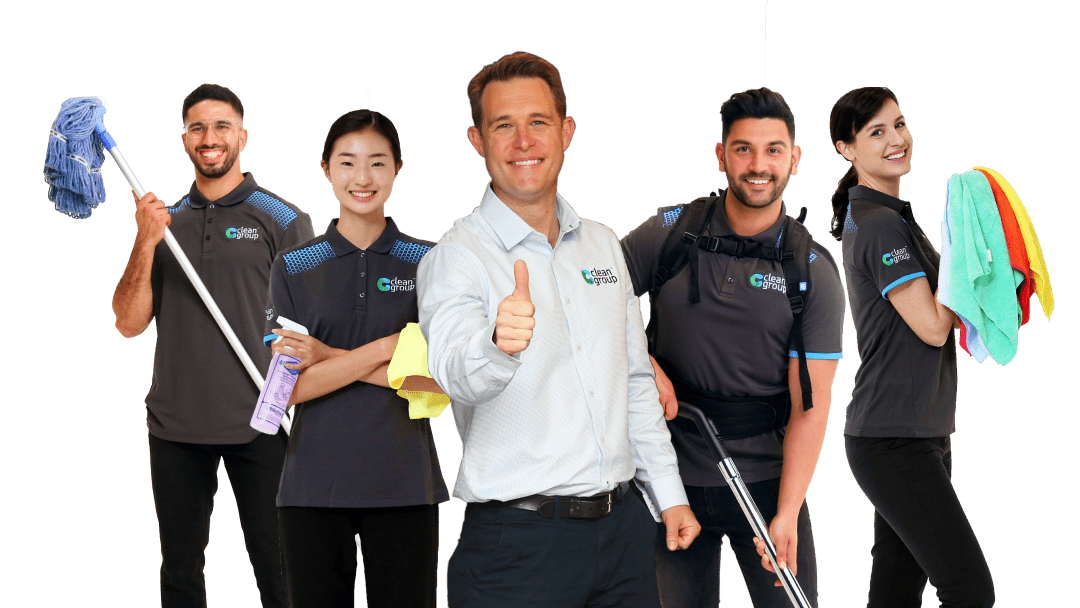 For their cleaning chemicals, the office cleaners from Clean Group commonly use Viraclean, which has been ascertained not to be harmful to the environment, while having the capability to eliminate different types of viruses, germs, and bacteria. Furthermore, they offer the Clean Group Virus Shield, which has been approved by the Dept. of Health GMDN to be an acceptable disinfectant for protecting people against COVID-19. An electrostatic sprayer is used to apply the Zoono-71 Surface Sanitiser, which has been approved by the Australian Therapeutic Goods Administration. It has also been proven to destroy up to 99.99 percent of germs for at least 90 days.
Clean Group has a lot of experience in the cleaning business, having provided such services to several suburbs throughout Australia for more than 20 years. They are capable of cleaning different kinds of buildings for commercial and business establishments, such as care centres, hospitals, offices, malls, strata buildings, gyms, and schools. They have over 50 full-time cleaners to provide a varied range of cleaning services, such as steam cleaning, carpet cleaning, end of lease cleaning, carpet cleaning, stain removal, and more.
And currently, with the COVID-19 pandemic still ongoing, Clean Group provides an infection control office cleaning service that is divided into two stages. The first stage is comprised of basic cleaning services while the second stage has to do with disinfection and sanitisation of the office.
The basic cleaning stage is the regular office cleaning service in which the professional cleaners will clean, wipe, sweep, and mop the various parts of the offices, including doors, bathrooms, floors, bathrooms, kitchens, windows, carpets, and more, to make sure that dirt, grime, dust, and debris are eliminated.
The disinfection and sanitisation stage is where the cleaners will ensure that those parts of the office and things that are frequently touched by people are thoroughly disinfected and sanitised to ensure that the coronavirus is eliminated and will not infect the employees and other people who use the offices. These include telephones, lightboards, door knobs, toilet seats, railings, keyboards, desks, drawers, and trash bins.
Meanwhile, aside from using the environmentally friendly Viraclean as cleaning solution, the cleaners also ensure that they will use water minimally during their cleaning operations. They will also minimise the use of strong chemicals by using microfibre technology and they always avoid using chemicals that contain phosphates and other harmful chemicals. The microfibre cloths have a net-like surface that contains a lot of space for trapping moisture and dirt. They are also super absorbent to ensure that the amount of water and chemicals used is minimised. Furthermore, the i-mop floor scrubber that they use minimises the use of water and cleaning solutions because of its effectiveness in cleaning floors and other surfaces.
https://youtu.be/U8xSsmpZbm4
When in need of professional office cleaners Sydney businesses may want to visit the Clean Group website, or contact them on the phone or through email.
###
For more information about Clean Group, contact the company here:

Clean Group
Suji Siv
1300 141 946
sales@cleangroup.email
14 Carrington St, Sydney NSW 2000