Clean Group Melbourne Provides Top Quality Office Cleaning Solutions To The Businesses Of Australia
February 10, 2021 at 18:10
Clean Group, a commercial cleaning & office cleaning company in Melbourne, is now offering a complete range of top-quality office cleaning solutions & services to clients' businesses throughout the city and Melbourne suburbs. Clean Group Melbourne specializes in office cleaning and offers routine cleaning services to hundreds of business premises all around the city. They have recently started offering office disinfection services to its commercial cleaning clients in the aftermath of COVID-19.
Hundreds of property owners throughout Melbourne prefer to hire Clean Group over other cleaning companies for their property cleaning needs. Not only there is a big difference in the price of Clean Group from other agencies but also the company is known to offer a 100% satisfaction guarantee, which helps maintain the customer trust in their services.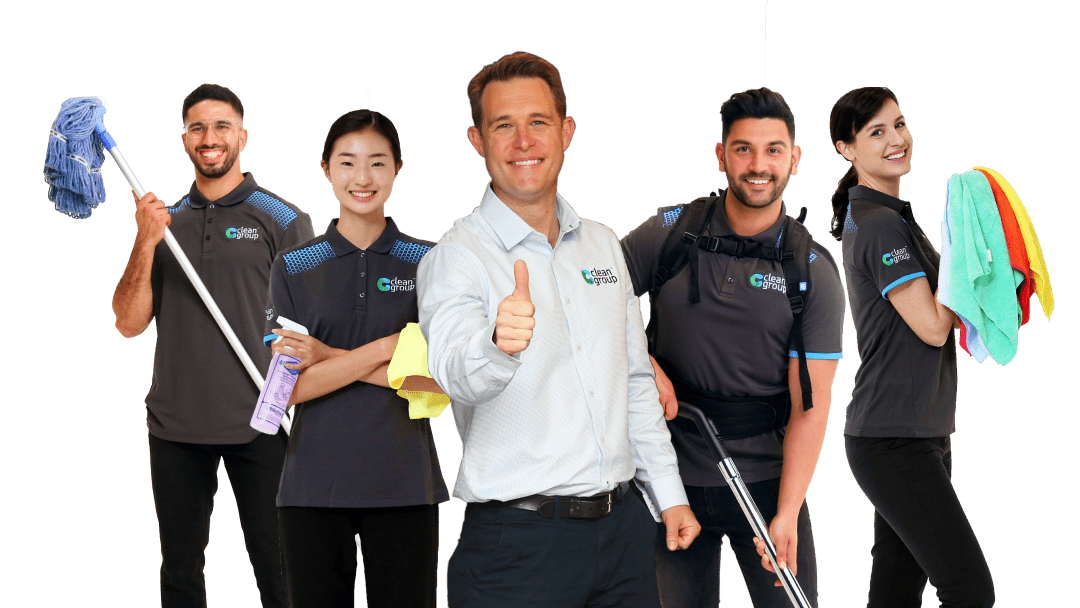 When looking to get their offices cleaned in Melbourne, businesses usually have two options - hire an in-house team of cleaners or outsource to a professional office cleaning company. Both options have their pros and cons. For one, managing an in-house team of cleaners can be costly & time-consuming. Moreover, traditional cleaners may not have the knowledge of or experience in modern cleaning methods required for efficient & germfree cleaning of offices. Hiring an expert office cleaning company such as Clean Group, on the other hand, is beneficial both in terms of cost and satisfactory results.
Unlike other cleaning companies in Melbourne, Clean Group offers customised cleaning solutions & quotes to its office cleaning clients, allowing them to get the best clean in their budget. They offer free cleaning quotes, which can be requested via the company website as well as on the call with their sales team. The free estimate is followed by an on-site visit, where their cleaning experts will analyse the property in question and suggest the best quote based on the cleaning needs & scope. This is a no-obligatory quote, which means customers can deny or accept the quote based on their choice.
Rather than offering a fixed price quote for all services and all types of premises, Clean Group has a custom-quotation system, which makes sure that the customer only pays for the service he/she uses.
Clean Group offers a complete range of office cleaning services. They can perform both routine offices cleans and deep cleans, based on the requirements of a property. Routine office clean, as the name suggests, includes the basic cleaning of an office, including dusting, mopping and vacuuming, cleaning of toilets, disinfection, etc. It's ideal for daily/weekly cleaning of offices with no serious sources of dust/dirt. Deep clean, on the other hand, includes the overall cleaning of a place, including deep scrubbing & mopping of floors, removing cobwebs, cleaning & disinfecting toilets and bathrooms, etc. This kind of office cleaning is recommended for offices with serious cleaning needs or ones that haven't been properly cleaned in a long time.
Based on the particular office cleaning needs, Clean Group also busts myths related to commercial cleaning Industry and offers tailored solutions along with custom quotes that perfectly fit the client's budget and requirements. Also, they make use of the latest cleaning technologies & tools to ensure optimum results consistently with all projects.
"When it comes to producing a sparkling clean, hygienic result, technology is everything. That's why we use the most advanced, high-quality commercial cleaning equipment available anywhere right now. These include HEPA multi-filtration vacuum cleaning that improves indoor air quality, hospital-grade germicide disinfectant cleaning to remove the disease-causing germ and much more," says Suji Siv, owner and CEO of Clean Group.
Clean Group is a synonym to reliable cleaning for many businesses across Melbourne. They trust this company for providing efficient office cleaning solutions at affordable rates. But, this isn't the only reason why Clean Group is a highly reputed office cleaning company. They are also famous for their eco-friendly and cutting-edge cleaning methods, which involves the use of the latest technologies & tools. Also, they have huge experience, of 20 years, in the commercial cleaning industry with specialization in the cleaning of large offices & strata complexes. Lately, they have included the most popular Electrostatic Disinfection technology to their list of advanced cleaning services in Melbourne.
https://youtu.be/gFgOD37psCE
Melbourne businesses looking for reliable & affordable office cleaning services with a guarantee of quality can contact Clean Group or visit their website to request a free quote.
###
For more information about Clean Group Melbourne, contact the company here:

Clean Group Melbourne
Amelia Annand
+61385784633
sales@cleangroup.email
1107/413 Collins Street, Melbourne VIC 3000 Australia