Clean Group Melbourne Office Cleaners Redefines Cleaning with Introduction of Eco-friendly Products & Equipment
Clean Group, a Melbourne-based leading provider of commercial cleaning & office cleaning services in Australia, is all set to disrupt the industry with its use of a range of eco-friendly cleaning solutions, equipment and methods. In an industry that is largely overwhelmed by companies that use harsh chemicals to achieve desired cleaning results and kill germs without caring much about the safety of their clients, Clean Group sends a positive message through its no-toxic clean policy.
"From the very beginning, we have been careful about the safety of our cleaners and our clients and have a strict policy not to use any toxic chemicals or cleaning solutions in our practices. Lately, we have started developing and using our own sustainable and eco-friendly range of cleaning solutions that are safe for humans, pets and the environment and ensures efficient cleaning results without compromising the safety," says Suji Siv, owner and CEO of Clean Group.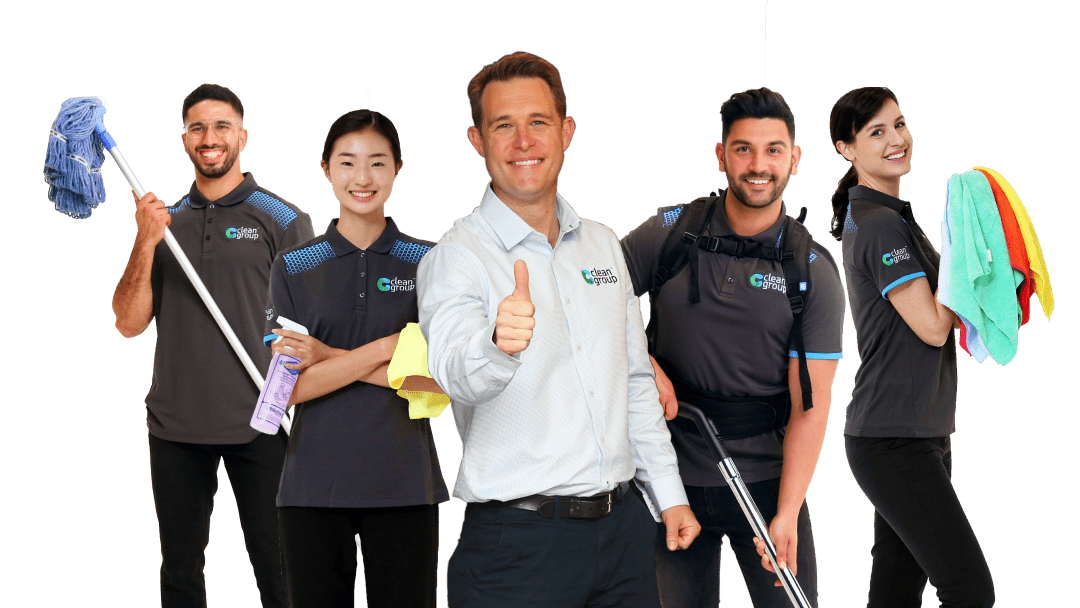 Eco-friendly cleaning has been the USP of Clean Group ever since the company was founded back in 2018. The company cares deeply about the safety and wellness of its customers and follows every precaution while cleaning so as not to do any harm to the property or health of people around. The use of eco-friendly and safe cleaning products is one of the important steps in this direction.
For those who are wondering what makes an eco-friendly cleaner, it's a cleaning solution or supply that has no adverse impact on the environment. In most cases, cleaning products that are eco-friendly are also safe for humans and other living things such as pets. Clean Group uses a range of cleaning solutions and products that are certified eco-friendly. These include Viraclean and other cleaning solutions, microfibre cloths and the i-Mop scrubber machine.
"We are also in the process of developing our own in-house cleaning solutions that will be 100% non-toxic and highly effective in killing common germs and bacteria."
Many businesses in Melbourne, over 80% of all, outsource commercial cleaning services from professionals, and when doing so, they expect quality cleaning with safety.
The use of toxic chemical-based cleaners may be efficient in cleaning difficult surfaces and stains, but it can have serious negative effects on the people and pets around. For example, a cleaning solution containing bleach and ammonia causes allergic reactions to the eyes, nose and lungs of people. When used as a spray, these chemicals can mix with the air and make it toxic, which can cause serious damage to the lungs.
There are some cleaning companies that still use cleaning solutions that are harmful to live beings. Even under the government-specified limits, these chemicals can have serious impacts on the health of people, which is why it's safe to only use cleaning products that are free of harsh chemicals. And with plenty of eco-friendly cleaners available in the market, things are much different now than they were about a few years back when the options were limited.
Clean Group Melbourne has a certified cleaner training program, where the company cleaners are taught how to use eco-friendly cleaning solutions safely & properly to achieve great cleaning results without compromising on safety. Both the new and existing office cleaners of the company are regularly trained to use advanced cleaning technologies & equipment for eco-friendly office cleaning. Their cleaners bring their own supplies, tools & equipment and perform the job carefully under the guidance of a qualified project manager.
"We use microfibre cloths for the cleaning of normal surfaces that may or may not have bacteria. These colour-coded cloths are very efficient in cleaning moisture and can also remove bacteria and germs up to some extent. In addition, we use some advanced machine, including the i-mop scrubber for quick & efficient cleaning of hard surfaces with a focus on saving water."
Clean Group is a Melbourne-based office cleaning agency that provides a full range of cleaning services to offices, hospitals, stores, gyms, schools and childcare centres in and around the city. The company has branches in Melbourne, Brisbane and Canberra as well, which expand its reach in over a thousand suburbs across Australia.
https://youtu.be/gFgOD37psCE
Businesses anywhere in Melbourne looking for eco-friendly & upgraded office cleaning services can contact Clean Group for a free quote.
###
For more information about Clean Group Melbourne, contact the company here:

Clean Group Melbourne
Amelia Annand
+61385784633
sales@cleangroup.email
1107/413 Collins Street, Melbourne VIC 3000 Australia