Clean Group Becomes A One-Stop Destination for Quality Melbourne Office Cleaning Services
Clean Group Melbourne, a full-service commercial cleaning company, now becomes the one-stop destination for businesses looking for quality commercial cleaning & office cleaning Melbourne services. Clean Group has over the years made a strong reputation in the commercial cleaning industry for itself through consistent delivery of top-class services. The company has experience of over 20 years and an in-house team of expert office cleaners providing services to 300+ clients of Clean Group.
"We work with a team of full-time cleaners who have been trained by some of the best & most experienced cleaning experts in Australia. Our team offers cutting-edge cleaning services and solutions to our clients on a 24/7 basis. In fact, we are one of the few cleaning companies in Melbourne that offer services 24 hours. 7 days a week. You can also hire our Melbourne cleaners for same-day cleaning as well as after-hours office cleaning," says Suji Siv, owner and CEO of Clean Group.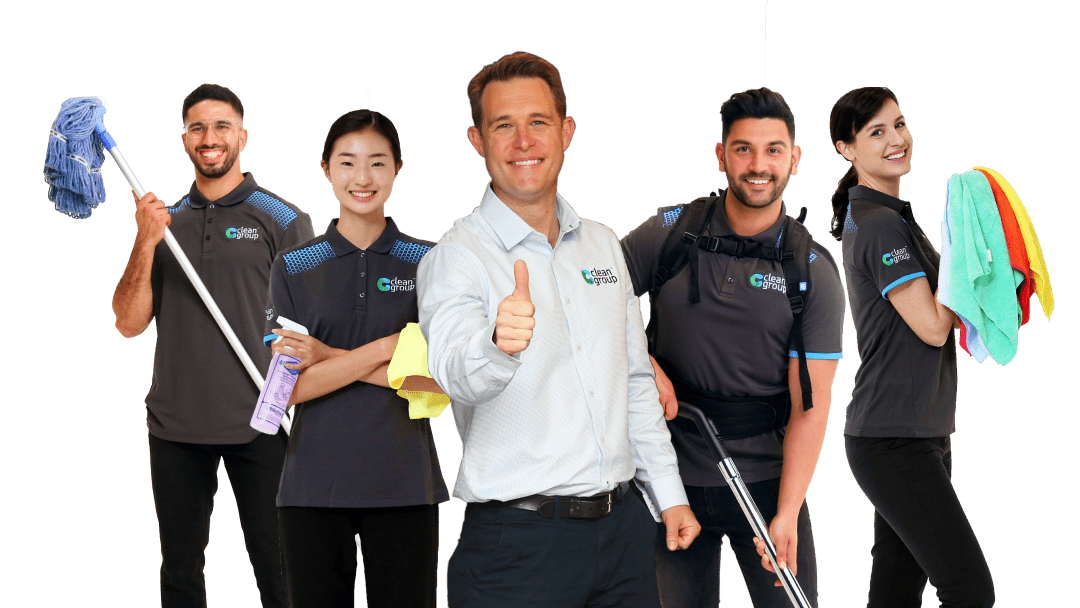 Though the company was officially established only a few years back, its core team, including the owner himself, has been active in the commercial cleaning industry for over 20 years. They have a collective experience of more than 50 years and have catered to the cleaning needs of a variety of business premises, including offices, malls, stores, schools, child care centres, and strata buildings. Now, the company offers a complete range of commercial cleaning and office cleaning services through a dedicated team of 50+ cleaners.
Clean Group has offices in Sydney, Melbourne, Canberra and Brisbane with dedicated teams of cleaners and serves its clients in the particular region through the nearest office. The Melbourne office of Clean Group provides cleaning services to businesses in Melbourne city and all 321 suburbs of Melbourne. They provide a complete range of commercial cleaning services, including office cleaning, carpet cleaning, school cleaning, after builders cleaning, strata cleaning, gym cleaning, and child care cleaning. Also, the company takes requests for personalized cleaning from clients who may be looking for service beyond the standard cleaning packages of Clean Group.
Thanks to its commitment to quality-focused, safe cleaning and the ability to consistently deliver results across all its cleaning projects, Clean Group has now become a one-stop destination for all types of office & commercial cleaning needs for businesses throughout Melbourne. As an awarded commercial cleaning company with a team of certified and police-checked cleaning professionals, Clean Group is trusted by hundreds of Melbourne business owners for the routine cleaning of their commercial premises.
Clean Group cleaners perform a complete set of tasks when providing advanced office cleaning services. From dusting of objects, furniture, windows, wardrobes, etc. to scrubbing & mopping floors, cleaning of kitchen, toilets and rooms, carpet cleaning, disinfection, and more. The standard office cleaning package covers the basic cleaning of all the areas in an office, excluding the car park and lift. Advanced cleaning & disinfection service includes toilet sanitisation, car park cleaning, law cleaning & maintenance, lift cleaning, and overall disinfection.
The advanced disinfection cleaning service of Clean Group is meant to help Melbourne businesses keep their premises clean and well-protected against all kinds of germs, especially the newly found COVID-19 virus. The electrostatic disinfection technology used by their cleaners is said to be effective against most of the varieties of germs and is able to kill up to 99.99% of germs & bacteria from the surface. For a limited period, the company is offering a FREE first disinfection service to its new routine cleaning clients.
Clean Group is synonymous with quality cleaning for hundreds of local businesses, including offices, all over Sydney. These businesses trust the company for consistently providing impeccable & safe cleaning results. Not just because of its huge experience in the industry, but Clean Group is also trusted for its policy to use eco-friendly and non-toxic cleaning solutions along with state-of-the-art tools such as the I-Mop cleaner that besides providing quick & efficient cleaning also reduces the use of water & chemicals in the cleaning process. "We are fully committed to ensuring safe & quality cleaning experiences for our clients. Our cleaners will go the extra mile to ensure that you are happy with the end results."
https://youtu.be/gFgOD37psCE
Property owners, offices and strata managers looking for a quality commercial cleaning provider in Melbourne can contact Clean Group to request a free quote.
###
For more information about Clean Group Melbourne, contact the company here:

Clean Group Melbourne
Amelia Annand
+61385784633
sales@cleangroup.email
1107/413 Collins Street, Melbourne VIC 3000 Australia