Chenbro Adds RB238G13-U04 Hybrid Storage System to NvME Server Line-Up
September 09, 2020 at 14:10
4xNVMe plus 20x HDD Server Combination Optimizes Cost vs. Performance Requirements

Taipei, Taiwan, September 9 - Chenbro (TWSE: 8210) has announced that they are adding the RB238G13-U04 Hybrid Storage System to their NVMe Server line-up. This new 2U server model under the Chenbro barebone servers category is an addition to the previously released RB238G13-U08. It features a dual-socket Intel Xeon scalable processor server board and is configured as a 24-bay hot-swappable hybrid flash array solution, except that it has 4 NVMe drives instead of the 8 NVMe drives of its sibling. Just like the RB238G13-U08, the RB238G13-U04 also complies with Apache Pass, Intel VROC, and Redfish.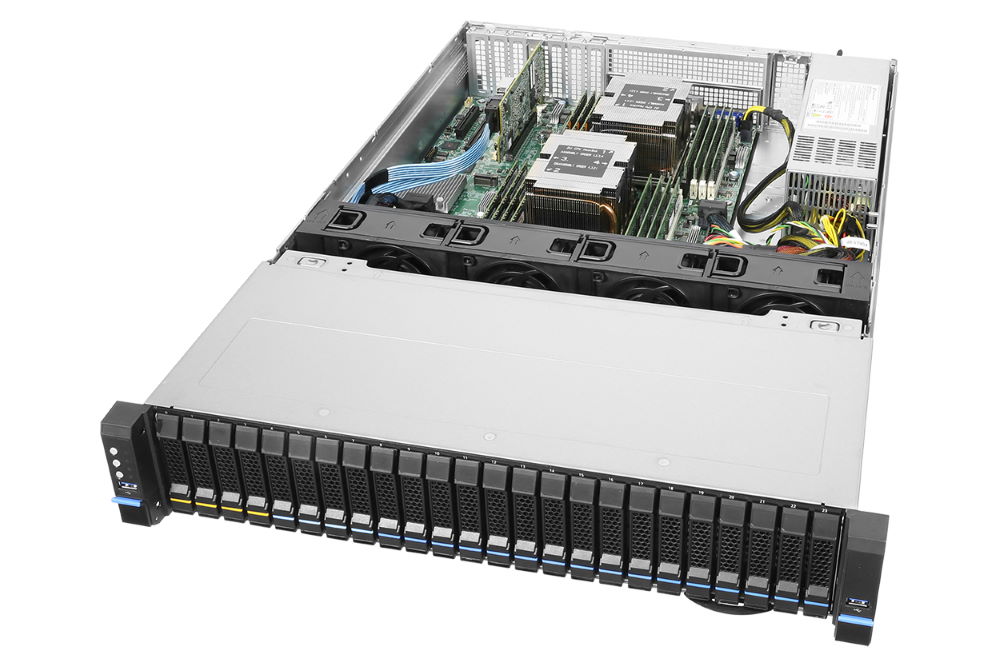 Hybrid Storage Arrays Reduce Latency and Keep Cost Manageable
The RB238G13 series was designed for clients who want to improve I/O storage latency significantly but do not need the full speed advantages of the more costly All-Flash-Array systems. Leveraging the capacity of the 20 x SAS/SATA drives, the RB238G13 series is suitable for databases, file servers, and container hosts.
Hybrid flash arrays provide an excellent overall balance between cost, capacity, and performance, allowing enterprises to efficiently deal with larger, more complex business-critical workloads.

Dual Intel Xeon Scalable Server Board with PCI-E Expansion options
Pre-installed with a dual-socket Intel Xeon Scalable processor server board, the RB238G13-U04 supports 16 x DDR4 memory. Four HH/HL card [1 x *8 and 3 x *16] upgrade options are available for internal AIB expansion. The barebones design includes optimized cable routing, plus 16K RPM cooling fans that can be hot-swapped. Excellent network connectivity is provided through 2 x 10GbE LAN.

The RB238G13 series is the right solution for customers looking for an alternative to All-Flash-Array solutions like the Chenbro 1U NVMe server focusing on pure I/O performance.
Logo Branding & Customization Services for Rackmount Server Chassis
As with other Chenbro chassis, the RB238G13-U04 barebone is available for branding customization. The server case can be modified to meet a customer's needs, including personalized silkscreens, logo plates, and tailor-made bezels to create a Data Center Rackmount in the customer's brand image. Thanks to an agile organization, Chenbro's server customization services can support requests from System Integrators and MSP's for their exclusive clients requiring select quantities.
Quality Server Manufacturing for Fast & Safe Server Assembly by MSP
Building on its 37 years of Taiwan manufacturing excellence, Chenbro assures a quality product manufactured with a sturdy frame and no sharp edges to ensure the well-being of assembly teams in system integrators, rack and stack service providers. The RB238G13-U04 barebone server employs a tool-less design for upgrades and maintenance, including storage, HDD trays, system fans, and PCI-Express riser brackets.

RB238G13-U04 Global Availability Starting Immediately
The Chenbro RB238 Hybrid Storage Servers are available immediately through Chenbro offices and partners. Chenbro is dedicated to supporting global System Integrators through its wide network of distribution partners in North America, Europe, and Asia, or it can directly support larger orders.
About Chenbro
Founded in 1983, Chenbro (TWSE: 8210) has been the trailblazer in designing and manufacturing of own-brand rackmount system, tower server, and PC chassis for over 37 years. Chenbro is not only qualified by the first-tier server brands and provides OEM, ODM, and JDM services with EMS companies, but also successfully extends its business footprint to datacenters and industrial solutions by continuously investing in technologies and delivers the most trusted server and PC chassis with the highest standard of innovation. For more information about Chenbro, please visit http://www.chenbro.com.
https://www.youtube.com/watch?v=DMMwzKg0maI

All product names, and other marks referenced, are trademarks of their respective owners.
###
For more information about Chenbro Micom Co., Ltd. , contact the company here:

Chenbro Micom Co., Ltd.
Yi-Chung Jan
+886-2-8226-5500
yc@GlobalPR.agency
15F., No.150, Jian 1st Rd., Zhonghe Dist., New Taipei City 235, Taiwan (R.O.C.)