Bouncing Buddies Takes Celebrations To New Heights With Bounce Party Rentals
LA based Bouncing Buddies is pleased to bring bounce houses and other inflatables to parties in Lafayette and beyond. The company's massive inventory includes bouncers, slides, interactive games and a wide range of party equipment for virtually any kind of event. See more here: https://www.bouncingbuddies.com/.
Bouncing Buddies recognizes that the spring season brings everyone a need to get together and have fun in one way or the other, and their party rentals are among the best ways to make sure every guest has the time of their lives. Notably, the company can accommodate the preferences of adults as well as children, so customers are encouraged to browse through all the company's offerings to ensure they can cater to all guests, from the young to the elderly. For instance, those who want a quiet night under the stars with their friends and family may wish to request the Inflatable Outdoor Movie Screen, which can deliver a 'theater' experience like no other. This inflatable is also recommended for sporting events, so customers can come together to watch their favorite teams go head to head on a massive screen.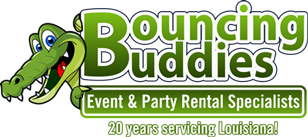 However, their most popular products tend to be their bounce houses, and this is where the company truly shines. Bouncing Buddies is incredibly proud of the feedback they have received from the community, especially where their bounce houses and water slides are concerned. Many of the reviews on their Google profile alone are quite positive, with customers leaving high praise for their inflatables, quality of customer service and willingness to accommodate special requirements. The company understands that everyone in the community has been going through hard times in the past few years, so their team tries to go the extra mile in offering assistance anywhere they can. The result of this is a smooth rental experience that inevitably leads to a fantastic event. Bouncing Buddies works hard behind the scenes to ensure their customers have a truly hassle-free experience no matter what kind of rental they want.
Dianne LeBleu shares in their 5-Star review, "The double slide was delivered the day before to the delight of our birthday boys. It was in excellent condition, 18' tall and was enjoyed by all the children. We recommended you to people in our neighborhood that stopped by to ask where we got the slide. It was picked up about an hour after the party. We were very pleased, and we recommend Bouncing Buddies!"
Bouncing Buddies adds that many parents may not be familiar with such products and so will not feel confident placing an order for an item their children may ultimately not enjoy. This is especially evident in cases where parents are unsure what is best for their young children — and what safety considerations need to be taken into account. The company reassures their community that all concerns can be addressed by simply phoning in to talk to a Bouncing Buddies customer service representative. The team has worked with hundreds of children and families, and they have a great deal of experience regarding what children tend to enjoy most and what items may present a safety hazard.
Parents are invited to share a few details about their children (and the ages of expected guests) with the team so that any recommendations they share will strictly be age appropriate. Additionally, to put other safety concerns to rest, a member of the delivery team will walk parents through all safety requirements onsite (such as partygoers having to remove all jewelry, how many occupants a bounce house can have at any time, whether weather conditions should be factored in and so on). The team can even direct parents towards themed items that suit their children's interests.
As another review by Kelly LeGrand shares, "Best fun jump company ever! Customer service is top notch. Brooke, in the office, helped me select what fun jump was most suitable for the kid range and type of party I was having. They have a huge selection to choose from! And it's worry free. They offer a rain check in case the weather is really bad! What company does that? For the full amount. Best!" Read more reviews here: https://g.page/BouncingBuddies?share.
Jason DeJean of Bouncing Buddies can be reached in the event a parent wishes to discuss an upcoming party and what rentals it may need. Information on all of their rentals, equipment and party gear can also be found on the company's website.
###
For more information about Bouncing Buddies, contact the company here:

Bouncing Buddies
Jason DeJean
(337) 456-8600
bouncingbuddies@cox.net
305 Industrial Pkwy, Lafayette, LA 70508