Best Workers Comp Lawyer in Riverside Stresses Importance of Knowing One's Rights When Injured at Work
December 31, 2021 at 17:10
Napolin Accident Injury Lawyer Riverside, a firm based in Riverside, CA, stresses the importance of those injured at work consulting with the best workers comp lawyer Riverside residents can depend on. Getting the services of a California workers comp lawyer can help maximize such benefits for the injured worker. California law allows injured workers to get a lawyer to represent them in filing an Application for Adjudication of Claim to fight for their benefits at the Workers' Compensation Appeals Board. There are various kinds of workers compensation benefits, including medical benefits, temporary disability benefit, permanent disability benefit, rehabilitation and retraining voucher, and death benefit to the dependents of a deceased worker.
Alexander D. Napolin from Napolin Accident Injury Lawyer Riverside says, "The employer has 90 days from the allegation of injury to accept or deny liability for a workers comp claim. This is known as the delay period and it ends at 90 days or when the employer denies the claim, whichever comes first. During the delay period the employee has a right to timely medical treatment up to $10,000.00. Every employer has a duty to conduct a reasonable and good faith investigation to determine whether benefits are due to the employee. A failure to pay benefits on time could result in penalties against the employer."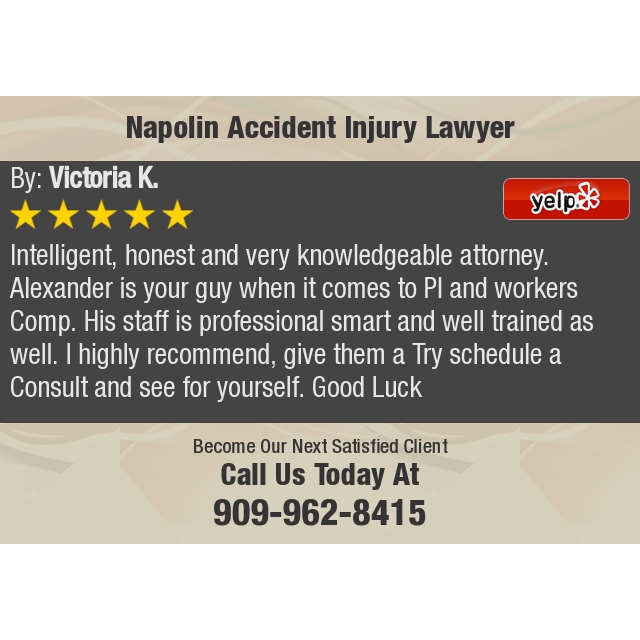 With regards to the medical benefits provided by workers comp, it is important to note that first aid will not trigger a workers comp claim. Injuries that require only first aid are only minor scratches, burns, cuts, or splinters. They only need a one-time treatment with minimal follow-up. No further benefits will have to be provided by the employer except for the first aid treatment and minimal follow up care. There are a lot of details to understand for the worker, which is why it is advisable to hire a work injury lawyer in Riverside.
Meanwhile, workers who have been injured at work have the absolute right to get emergency medical treatment at the expense of the employer. Employers have a corresponding affirmative duty to assist the worker in getting emergency care and in authorizing treatment. It is also important to note that workers have a right to receive medical treatment to relieve and cure work injuries. The employer has a duty to provide such care proactively and to authorize and pay for it as the claim progresses. The injured worker can typically choose a doctor within the medical provider network of the employer. However, it is important to note that the insurance company will be reviewing all treatment requests for medical necessity and reasonableness. A dispute will arise when the adjuster denies a particular treatment.
The temporary disability payments are intended to compensate for the lost wages resulting from the worker being unable to work while recovering from the injury. Payments will continue up to 104 weeks or until the worker is finally able to return to work or maximum medical improvement has been reached. Temporary disability payments may be extended from 104 to 240 weeks depending on the types of injuries. A temporary partial disability is possible when the worker can do some work but not full normal duties while recovering.
The permanent disability benefit is provided when the work injury has reached maximum medical improvement. This is also known as permanent and stationary, which means that the condition is well stabilized and unlikely to change significantly in the next year with or without medical treatment. This is when the temporary disability benefits stop and the permanent disability benefits begin.
Founded in 2011, Napolin Accident Injury Lawyer has grown into a well-balanced law firm in California that is focused personal injury cases. The firm has nurtured the reputation of being a reliable law firm due to several successes in claiming compensation for many of their clients. These successes were mostly made possible by Alexander D. Napolin's unique technique and philosophy that he always applies to every case that he is entrusted to handle. At present, the law firm has already provided help to thousands of personal injury victims.
People who require a Riverside work injury settlement lawyer can check out the Napolin Accident Injury Lawyer Riverside website, or contact them through the telephone or via email. They are open from 8:00 am to 6:00 pm, from Monday to Friday.
###
For more information about Napolin Accident Injury Lawyer Riverside, contact the company here:

Napolin Accident Injury Lawyer Riverside
Alexander D. Napolin
951-200-5035
riverside@napolinlaw.com
5750 Division St., Ste. 202
Riverside, California 92506