Aviation Business Consultants Intl. Announces Black Friday Special for Aviation Sales Training
November 25, 2020 at 12:00
Aviation Business Consultants Intl. (ABCI), based near Salt Lake City, Utah, has announced their Black Friday Special for their aviation sales training program. This Black Friday Special will include the Social Media Workshop, which is valued at $579, and it will run through November 30, 2020, and there will be no repeats. Those who want to take advantage of the Black Friday Special will need to enroll in Aviation Sales Basics, which is ABCI's 12-week intensive flagship training program that will begin in January 2021. The first students to enroll will get the benefit of being the first to choose from the available live class scheduling. Students will also get instant access to ABCI's Focused Social Media Project for free. Students may then spend the holidays updating their social media and increasing their audience, which will allow them to achieve more success when they apply their new aviation sales skills.
Paula Williams, President and co-owner of ABCI, says, "Nothing happens until somebody sells something. Whether you work in an FBO, MRO, or charter company, or whether you're a broker, component manufacturer, software developer, doctor, lawyer, consultant, or other professional, you're in sales. The aviation sales training that we provide is one of a kind in our field due to a number of reasons: it has an aviation focus; it utilizes methods that resonate with buyers for complex, high-ticket, long-cycle, B2B, relationship-based sales; and our class members do live role playing with other aviation professionals to provide a very realistic training."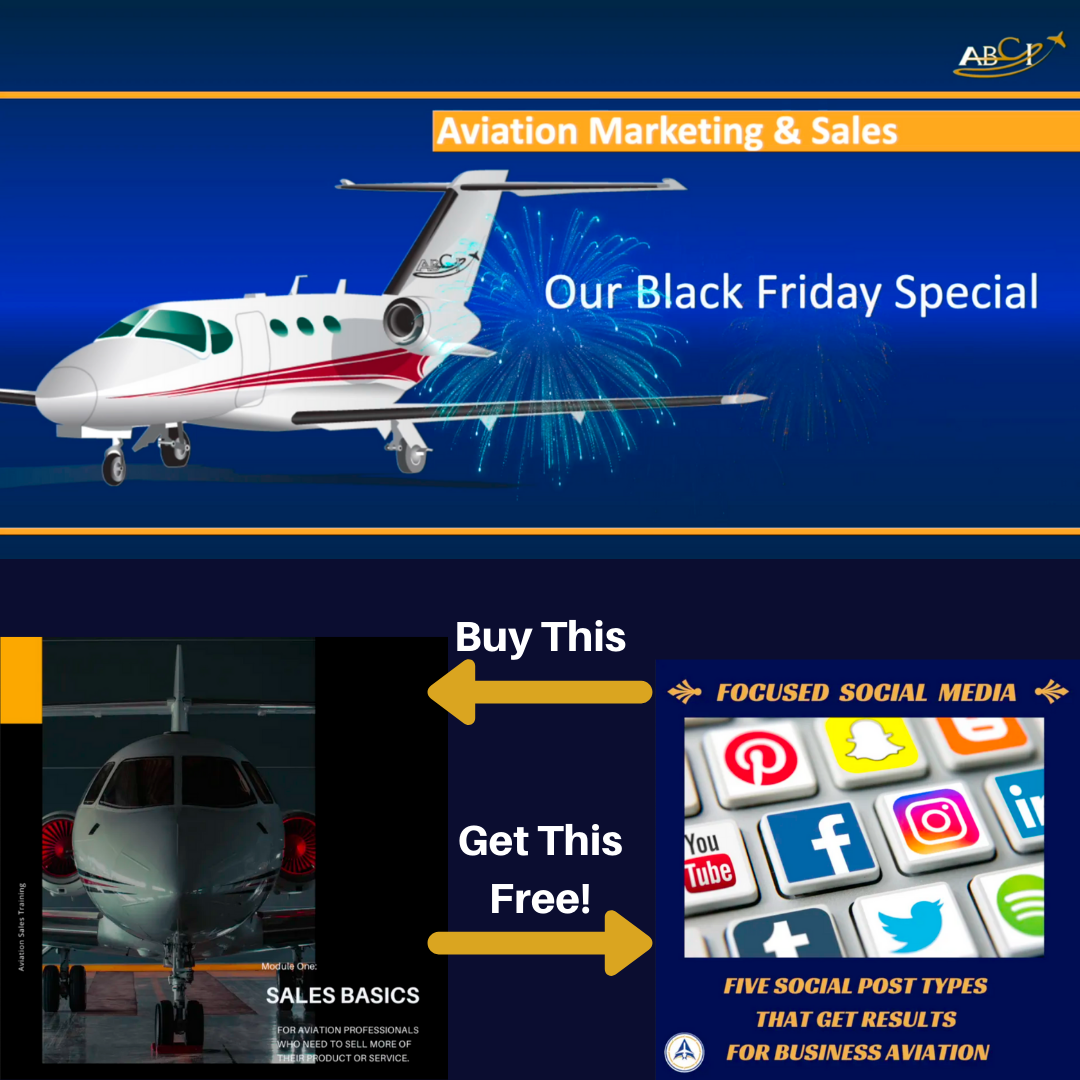 Those who want to know more about ABCI and the services that they provide may want to join their free Facebook group for aviation sales professionals. Those who join this group may take advantage of weekly live training workshops for aviation sales professionals. They want to stress that this Facebook group is for aviation professionals who want to start a business or advance their career. ABCI focuses on sales because sales and revenue are the vital fuel of any business, which means that sales and marketing skills are critical for any business.
Aside from providing aviation sales training, ABCI provides other aviation related services. These include the: development of an aviation marketing strategy; aviation digital marketing; and aviation sales consulting.
ABCI offers marketing and sales support for aviation professionals. These include: sales and marketing consulting, including their popular Marketing Flight Plan; design, strategy, branding, and identity services; training and resources for the aviation company's sales and marketing teams; and online marketing, where they design, build, and offer maintenance for aviation websites, develop comprehensive digital marketing campaigns, write site content for products and services, aviation social media, write aviation articles for trade journals, create landing pages, SEO, email campaigns and podcasts, and write blog articles.
They can also provide traditional marketing services. They can help the client aviation company get noticed through aviation trade shows, aviation news contacts, press releases, magazine ads, direct mail, postcards, and brochures. They can also provide customer service consulting, such as the use of testimonial interviews, customer satisfaction surveys, and more.
The Marketing Flight Plan is the most popular diagnostic plan offered by ABCI. A Marketing Flight Plan Report will be provided and this will include: an executive summary; whether the client's website is effective in converting visitors into buyers; whether customers are finding the client company on the webs; whether the client company is missing on social media opportunities that competitors may be using to their advantage; and more.
For their aviation sales training programs, they offer a number of courses. These include the: Done-with-You-Workshop, which focuses on social media posts that work well for aviation companies; Aviation Sales Basics, which will launch on January 2021; Aviation Sales Mini Challenge; and Aviation Sales Course – Module Two.
https://vimeo.com/481009943
Those who are interested in the services provided by ABCI may also want to join their free LinkedIn group for aviation sales professionals. This group is for aviation professionals who use video, written content, SEO, or social media for their marketing. They may also want to check out the ABCI website, or contact them on the telephone, or through email.
###
For more information about Aviation Business Consultants Intl. (ABCI) , contact the company here:

Aviation Business Consultants Intl. (ABCI)
Paula Williams
702-987-1679
paula@aviationbusinessconsultants.com
1288 East 850 North
Tooele UT 84074