Atlanta Music School Offers a Top Drum Degree
January 29, 2021 at 17:16
Atlanta Institute of Music and Media offers many degree and certificate opportunities for musicians. For percussions, AIMM offers the Music and Technology Associate Degree: Drum Concentration. This degree is designed for intermediate drummers with aspirations of turning music into a flourishing career. The Atlanta music school offers a fully immersive, nonstop music atmosphere so students can thrive in the competitive music business world.
The Music and Technology Degree is designed with a rigorous curriculum to cater to the modern musician and help them develop technical drumming skills and acquire an in-depth understanding of the recording, mixing, and mastering process of music production.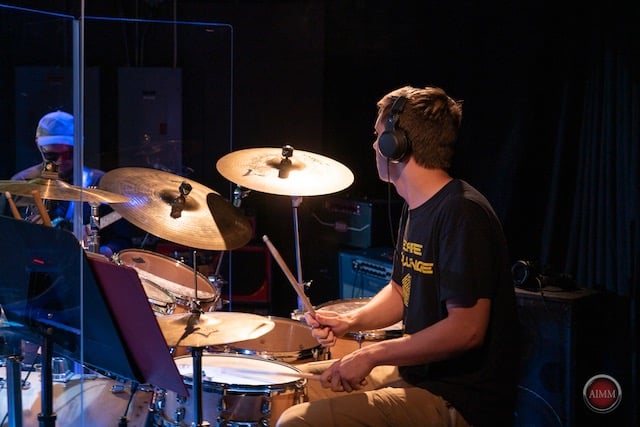 AIMM's Drum Degree is meant to elevate the performance and talent of intermediate drummers. The top music school in Atlanta offers the Drum Associate Degree with a goal to enhance drumming skills so students can flaunt an impressive portfolio of musical abilities to gain employment or start a music career of their own.
On the other hand, the music production skills learned at the Atlanta music school will make students a prime candidate for record labels, multi-media production studios, video games, and movies. This opportunity is highlighted by the fact that AIMM is an AVID Pro Tools Training Partner. "As an AVID Training Partner, AIMM offers you the opportunity to become AVID Pro Tools Certified as you progress through the curriculum."
Students interested to complete the Drum Degree quickly may choose 18 months of accelerated studies. Working students may choose between 24 months of full-time enrollment and 30 months of ¾ time enrollment.
Music or drumming enthusiasts who wish to have a successful music career should consider the endless learning opportunities at AIMM and begin their journey confidently at the Atlanta Institute of Music and Media.
Interested intermediate drummers can log into the AIMM website to submit their application for the Music and Technology Associate Degree: Drum Concentration and be part of an institute that has been instrumental in transforming the lives of hundreds of musicians and music producers.
###
For more information about Atlanta Institute of Music and Media, contact the company here:

Atlanta Institute of Music and Media
Nite Driscoll
(770) 242-7717
admissions@aimm.edu
2875 Breckinridge Blvd #700,
Duluth, Georgia 30096