AIMM Accepts Gift Of Baldwin Baby Grand Piano
September 11, 2020 at 22:30
Duluth, Georgia based music school Atlanta Institute of Music and Media (AIMM) is excited and honored to announce that they have been gifted a Baldwin Baby Grand Piano. AIMM offers a number of different majors in music and media, including but not limited to Music Technology, Music Performance, Recording Arts Technician and more.
Nite Driscoll, President of the Atlanta Institute of Music and Media says, "As everyone who is well-versed in pianos will tell you, Baldwin pianos are easily among the best of this kind of instrument. Baldwin is more than just pianos — it's about peerless quality and the absolute best-sounding and best-playing pianos anywhere. As such, we are very excited and filled with gratitude to have received this very generous gift from our former music instructor, Victoria Kubacki, and her daughter, Christine Atherton of Arlington, Virginia. We would also like to extend our thanks to Tom Wade of Caring Transitions of Louden, Virginia for helping us facilitate this donation."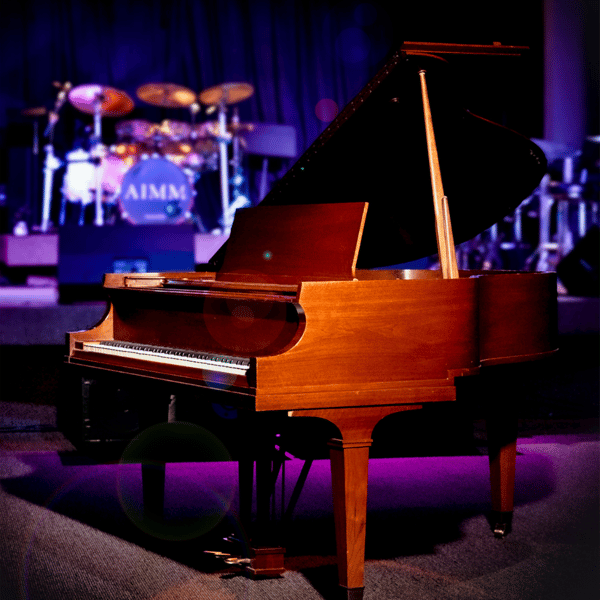 Driscoll continues, "In addition to being a fantastic addition to our ranks, AIMM's new Baldwin Baby Grand Piano is also an enticing proposition for the students currently in AIMM's Keyboard Degree program. While electronic keyboards are quite nice and convenient, playing a grand piano is something else entirely. Thanks to this incredibly kind donation from Victoria Kubacki and Christine Atherton, our students now get to experience the magnificent feeling of playing and handling an instrument that is as much of a piece of art as the music produced from it will be."
AIMM is proud to say that, across all their courses, they provide a fast-paced learning environment outfitted with state-of-the-art production, audio and video equipment. The Institute's students are given a proper start to their music career, as studying at AIMM offers a host of benefits in addition to quality education. Students will have the opportunity to meet and connect with industry icons and surround themselves with like-minded peers. The Institute boasts that their campus is ripe with potential, collaboration opportunities and instructors who have conquered the music industry and are willing to help every single student find their own footing.
The quality of education provided by the Atlanta Institute of Music and Media — along with the suite of associated services they provide — has earned the school a lot of praise from their students. In a recent Facebook review, R. N. Hubbard writes, "Went here back in 2009, and I have nothing but great things to say. It gave me the tools and understanding to build my career in music. Granted, I do more live audio than studio nowadays, but I've been able to teach myself from the fundamentals they taught me at AIMM! Look forward to coming back to visit in the near future to see all the great instructors!"
Meanwhile, in a highly-rated review on the college and school ranking website Niche, a freshman at AIMM writes, "About a year ago, I started doing some soul-searching wondering what I want to do with my life. I was 23 at the time: no kids, single apartment, own car, yet I wasn't happy, working a job I disliked and feeling I was just living to pay bills. I knew ever since I was 11 years ago I love writing poetry, rhymes and rap. So, I figured I should do something in music. I started looking at the different fields I can do and came across audio engineering and audio post production. I thought those were the dream career jobs I have been looking for. So then I started searching for colleges near me that have the program but none were to my liking. Then I came across the Atlantic Institute of Music and Media, where I found my match! Down to the degree that they offer internships and jobs in overall experience and location of the school, this is my #1 choice, and I'm excited to see what the future holds."
Those who want to learn more about Atlanta Institute of Music and Media itself and the variety of programs on offer can find additional information on their website. The Atlanta music school encourages interested parties to get in touch with Nite Driscoll directly via email or phone. Further, Atlanta Institute of Music and Media can also be reached through the contact form on their website. They also have a Facebook page where they post updates and discuss the industry with their community.
###
For more information about Atlanta Institute of Music and Media, contact the company here:

Atlanta Institute of Music and Media
Nite Driscoll
(770) 242-7717
admissions@aimm.edu
2875 Breckinridge Blvd #700,
Duluth, Georgia 30096